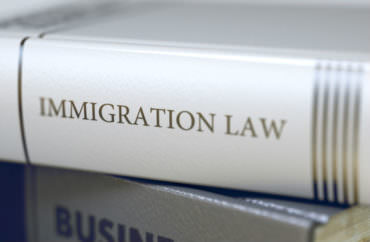 Immigration case reveals state-level loophole in U.S. law
Luis Mora, the University of California, Berkeley student who was detained last month by Immigration and Custom Enforcements, was in the country on a visa that expired several years ago. He was denied DACA status by the federal government. He was in the country illegally. Nevertheless, he is able attend a major public university, even qualifying for in-state tuition.
How?
The case reveals a strange loophole in United States immigration law: No federal law expressly prohibits a public university from admitting an immigrant student who does not have all the proper paperwork; in fact, some courts have found their education is allowed under the constitution, regardless of their immigration status, according to one legal scholar interviewed by The College Fix.
Mora was brought to the United States when he was eleven years old, according to the UC Berkeley student activist group Rising Immigrant Scholars through Education, or RISE.
Mora–whose visa expired two years ago and whose deferred-action application was denied by the federal government–was arrested by border patrol agents in December of last year and transferred to federal immigration custody.
The UC Berkeley community agitated for Mora's release, with the chancellor of the university "taking all appropriate actions" in order to return the student to campus. After two weeks in custody, Mora was released on bail. He is scheduled for a court hearing next year. In the meantime he will continue to attend UC Berkeley, according to the university.
A spokesperson for Immigration and Customs Enforcement told Campus Reform last month that Mora "lacks the necessary visa to be legally enrolled in a university" and "should never have been allowed to enroll in the first place," but that claim appears to conflict with some legal analysis, according to an immigration expert at the University of California, Irvine.
"No federal law expressly prohibits a state university from admitting an immigrant student present in the country without authorization," Jennifer Chacón, a senior associate dean at UCI Law, told The College Fix via email. "Unless such laws or policies are expressly prohibited by Congress, conflict with federal immigration law or pose an obstacle to that law, the state's laws and policies are not preempted by federal immigration law."
"States can't enact their own immigration laws — federal law controls admission and removal of immigrants — but states can and do regulate the lives of the immigrants within their borders in many ways, and state regulation of this kind generally is perfectly lawful if it is not preempted and does not violate other constitutional rights."
"In fact, there is federal constitutional case law that prohibits states from DENYING K-12 education to undocumented students," Chacón added. "So educating undocumented students isn't contrary to federal immigration law and in some cases, courts have found such education to be constitutionally required."
The College Fix repeatedly reached out to Immigration and Customs Enforcement via email seeking clarification on the legalities of Mora attending UC Berkeley. Nobody from the department responded.
The student activist group RISE also did not respond to request for comment from The Fix; nor did the University of California's office of the presidency or UC Berkeley's office of the chancellor.
Reached via telephone, Berkeley spokeswoman Janet Gilmore declined comment.
According to Campus Reform, when asked, officials at UC Berkeley "tactfully denied receiving 'any requests from ICE to cancel a student's registration.'" Berkeley officials stated that Mora "is in excellent academic standing, attending all his classes diligently, and a positive contribution to our Berkeley community."
MORE: University to pay '100 percent' of the financial need of students in country illegally
MORE: Undocumented students enjoy lower tuition rates, other perks
IMAGE: Tashatuvango / Shutterstock.com
Like The College Fix on Facebook / Follow us on Twitter