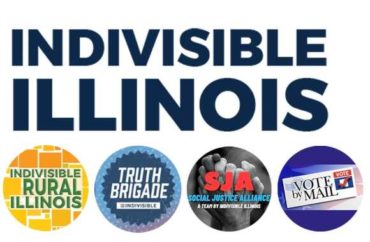 Indivisible Illinois said YAF students 'spread the word about white nationalism'
Indivisible Illinois, a progressive political group, hosted a meeting to discuss members' concern over Young America's Foundation and other conservatives' influence on young people, YAF reported.
Indivisible Illinois "stands indivisible against campaigns of hate" and "empowers local progressive groups by uniting and amplifying voices through networks, resources, and public platforms," according to its website.
The meeting, clips of which were posted by YAF, was titled "Zeroing in on the Young and Vulnerable: How Right-Wing Organizations Mobilize High School and College Students."
It included comments from a Sauk Valley Community College instructor named Sarah Bingaman. YAF purchased Reagan's boyhood home in Dixon, Illinois, where the community college is located.
She expressed a concern about the conservative movement's portrayal of Ronald Reagan as a Christian, according to YAF.
"The focus now is not to talk about Reagan's bunnies in the backyard, and the kinds of silly things that his brother used to do. The focus, now, is to talk about Reagan's values and Reagan's faith," Bingaman stated.
A far-left group in Illinois hosted a fear-mongering Zoom call teaching their members how to organize against the growth of YAF, absurdly accusing the organization about spreading "white nationalism." 🤣🤣🤣

One of the hosts is a professor at a local community college. 👀 pic.twitter.com/MwtTZWaBxF

— YAF (@yaf) July 14, 2022
The presentation told attendees how they could undermine YAF and young conservatives and expressed concern regarding YAF's campus lecture programs, student activism and new office in Dixon.
Indivisible Illinois also took issue with YAF's coverage of sexually explicit material in the Young Adult section of the Dixon Public library, calling it a "nationwide propaganda blitz," according to YAF.
"A graphic novel containing obscene images depicting oral sex was recently discovered in the Young Adult section of a public library in Dixon, Illinois, according to a tip received through Young America's Foundation's Campus Bias Tip Line," YAF reported.
MORE: Students demand YAF chapter be banned after posting Ben Shapiro gender-critical quote
IMAGE: Indivisible Illinois
Like The College Fix on Facebook / Follow us on Twitter