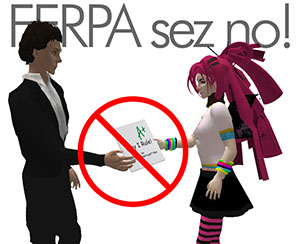 The attorney general of Illinois just put colleges in the state on notice that they can't use a much-abused federal law to hide their records from the public.
The Student Press Law Center reports that the College of Dupage – which is undergoing massive scrutiny for a financial scandal, as The College Fix reported – tried to hide students' email addresses by citing the Family Educational Rights and Privacy Act.
A database of college email records had been sought by a local watchdog group. Under FERPA, schools can "designate certain student records" – including email addresses – "as 'directory information,' meaning that they can be revealed without needing the student's advance permission," SPLC says.
After the school said it's authorized under FERPA to opt out of including email addresses as directory information, Attorney General Lisa Madigan's office slapped it down. SPLC explains:
Illinois' Freedom of Information Act allows an agency to withhold or redact public records if the information is "specifically prohibited from disclosure" by federal law. But as Assistant Attorney General Josh Jones noted, FERPA does allow colleges to disclose email addresses — the College of DuPage simply chose not to. And that's not a federal prohibition.

This is significant. College attorneys often take the position that, when FERPA makes it permissible to disclose a piece of information, that means the college is free to choose not to disclose it. That's not how it works.
This is why the specific text of legislation is so important:
The determination letter casts doubt on whether FERPA can ever be interpreted as a federal prohibition against disclosure, because it doesn't actually say "don't disclose." It says, if your college has a policy or practice of disclosing, then you might be financially penalized (although no college ever has been).
Not even the threat of losing federal funding (for theoretically violating FERPA) can justify the school from withholding those records, in the AG's opinion.
Like The College Fix on Facebook / Follow us on Twitter
IMAGE: iliveisl/Flickr