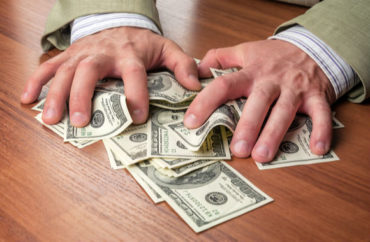 With looming credit crisis and reduced budgets, many University of Illinois employees make hundreds of  thousands of dollars
Facing junk bond status, high debt and the threat of downgraded credit ratings, the state of Illinois is in dire financial straits – yet thousands of public university employees continue to pull down high-six-figure salaries.
Many of those employees are located at the Chicago campus of the University of Illinois, with more at its Urbana-Champaign flagship. More than 3,100 employees make at least $100,000 and more than 500 make $200,000 or more at the Chicago campus.
Four doctors alone make a combined $4 million, and the top 14 employees at Chicago all make more than $500,000, according to OpenTheBooks.com, which tracks "disclosed spending" across federal, state and local governments.
When asked about these salaries, UI spokesman Thomas Hardy told The College Fix via email that "compensation for faculty and academic staff generally follows the market for the respective positions. For example, our engineering, medical and college of business faculty, as well as senior administrators, earn compensation comparable to their colleagues at peer institutions."
He added that "top faculty researchers and medical clinicians are bringing in external funds that not only help pay their salaries, but those of other faculty and staff as well."
At the Urbana-Champaign campus, 35 university employees make more than $300,000 and dozens more earn in excess of $200,000.
Hardy told The Fix that the "state appropriation to the University of Illinois has dwindled to approximately 12 percent of the U of I System's annual operating budget of more than $5.6 billion." The university, Hardy claimed, has had to "rely more heavily on tuition, research, auxiliary operations and philanthropy" in light of these budget cuts.
In addition to the state's quantifiable budget woes, The Chicago Tribune says that Illinois public universities have been forced to make significant budget cuts and they "struggle to attract students." This cost to the state is "difficult to quantify," and further strains the state budget.
Hardy denied that UI contributes to the state's financial issues, saying that "a world-class university system like the University of Illinois is an economic engine for the state with an annual economic impact of $14 billion."
The Fix reached out for comment to the chancellor's offices at the University of Illinois at Chicago and the University of Illinois at Urbana-Champaign. Neither responded.
MORE: University of California has been hiding $175 million surplus from the public, says audit
MORE: University of Illinois spends $60 million a year on diversity efforts
Like The College Fix on Facebook / Follow us on Twitter
IMAGE: Shutterstock