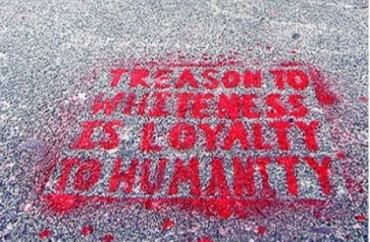 If you are interested in doing something about the "systemic racism" spreading "across the media and internet," then you have but to register for Everyday Feminism's free online workshop titled "Healing from Toxic Whiteness."
The workshop was "created to help white people work through" the emotions of guilt, powerlessness, and defensiveness associated with discussing racism.
"You'll learn the underlying reasons why many white folks feel emotional resistance to addressing systemic racism – and get the tools to free yourself from toxic whiteness and develop an anti-racist white identity," the workshop's website says.
You can help "free yourself" from this toxicity in part by learning
–The four core pains that drive all of the outrage, denial, guilt, and fear preventing white people from taking action for racial justice – including and especially for yourself.

–A completely new way of looking at white supremacy – as something that has caused pain, suffering, and trauma across generations of white people in addition to people of color.

–A powerful mindfulness practice that will help you get in touch with that pain and suffering, and how to take care of and release it with compassion.

–How to transform your interactions with other white people by connecting your ability to work with your own pain with ability to work with other white people's resistance to taking action.
MORE: Sex researcher's article pulled from feminist website because it's not 'inclusive'
If you're pondering just what "toxic whiteness" is, well, here you go:
Similar to toxic masculinity, toxic whiteness is something that was created by white supremacy and is not inherent to white people. Like all social constructs, whiteness doesn't have to be toxic – it's just that the way it predominantly exists today is indeed toxic. This becomes clearer when you take a historical view of how toxic whiteness was invented. In the early 19th century, the wealthy northwestern European landowners who colonized the Americas created the social construct of whiteness to prevent poor Europeans (like the Irish and Italians) from joining with enslaved Africans and indigenous folks against the ruling class. In return for access to what was once denied to them in addition to people of color (e.g. land, education, and jobs), poor Europeans had to disconnect from their cultural heritage, the history of why they left oppressive Europe, and truth about how they were being exploited by wealthy white people into oppressing others. It was a pretty raw deal that manipulated them into acting against people of color and their own well-being in exchange for white privilege (which continues to happen today). That's why it's important for white people to free themselves from this toxic whiteness, which was created by white supremacy and has unconsciously conditioned them to this day.
The workshop will be hosted by Everyday Feminism founder Sandra Kim who has helped people "to free themselves from the suffering caused by systemic oppression and to respond to everyday oppression with love and justice," and Dara Silverman who's "been building movements for social justice for over 20 years" and currently is "organizing to stop Trump and his followers."
(Hat tip to Mike Cernovich, whose tweet asks if this workshop is for real. It certainly appears that way.)
MORE: Pro-choice, pro-LGBT activist headlines feminism week at Catholic university
MORE: Portland Community College's 'Whiteness History Month' lets the silly, racial PC all hang out
Like The College Fix on Facebook / Follow us on Twitter
IMAGE: Josh Parrish/Flickr