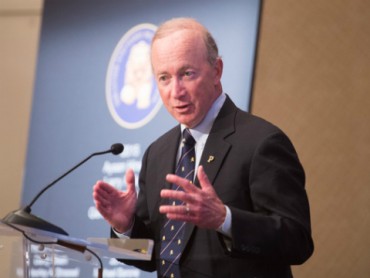 Only half of alumni 'strongly agree' their college degree was worth the cost
Student loan debt is so huge it's convincing graduates to put off buying homes and cars and having children, and the increasing flow of federal money won't fix the problem.
That was the message that higher-education experts gave a congressional committee composed of both House and Senate members at a Wednesday hearing on financing higher education.
One alternative to traditional loans is income-share agreements (ISAs) in which students pay a fixed percentage of their future income to investors who finance their educations, an idea that intrigued both Democratic and Republican members of the Joint Economic Committee.
A bipartisan bill would permit the development of ISAs nationwide. The Investing in Student Success Act (HR-3432) is sponsored by Reps. Todd Young, R-Ind., and Jared Polis, D-Colo.
Purdue University President Mitch Daniels, former Republican governor of Indiana and hoped-for presidential candidate in 2012, was the star witness at the hearing. "'President Daniels' – it sounds nice," joked Sen. Tom Cotton, R-Ark.
'You want debt-free education? Here it is'
The tone of the hearing was quickly set by Rep. Carolyn Maloney, D-N.Y. and the committee's ranking member, when she assailed Republicans for trying to rein in federal loans and encourage the private market.
Private loans pose "significant risks" and will not "magically solve" student debt problems, Maloney said in a lengthy opening statement, asking witnesses to explain how ISAs would protect students from "predatory practices."
Daniels said the student debt problem is "still getting worse," pointing to newly released results from the second Gallup-Purdue Index, a survey of 60,000 college graduates that asks how debt has affected their lives.
The survey found that only half of alumni "strongly agree" their college degree was worth the cost, and that the median loan is $30,000. Loans above $25,000 are associated with "significantly" longer delays in starting grad school or businesses, the survey found.
Daniels made a forceful defense of ISAs, emphasizing their certainty and their status as equity rather than lending: "You want debt-free education? Here it is."
ISAs could be a good replacement for the federal PLUS loans intended for graduate and professional students, as well as for private loans – existing options that Daniels said were largely to blame for the "nightmarish anecdotes" of student loan debt.
Legislation should ensure that ISAs would be "dischargeable in bankruptcy," unlike today's student loans, and exempt them from state usury laws, he said.
Purdue itself is mulling its own program for ISAs, Daniels said in his written testimony. It's reviewing "six serious proposals" from potential managers of an ISA program and expects to make a decision by the end of October, he wrote.
.@SenTomCotton talked with @purduemitch at today's hearing about interest rates on student loans pic.twitter.com/rCVdBnvwaB

— JEC Republicans (@JECRepublicans) September 30, 2015
Not 'particularly impressed with anything we've done'
Daniels acknowledged that Purdue was "wind-assisted by the gusher of federal money," raising tuition with no consequences, before his tenure. He told Maloney the previous administration "wanted to spend more money. They did it because they could."
The so-called Bennett Hypothesis – more federal money spurs higher tuition, coined by former Education Secretary William Bennett – was "pretty much empirically proven" by now, Daniels said.
But Purdue has frozen tuition the past two years and will keep it frozen the next two, and it's "aggressively promoting [itself] on a value basis" now, Daniels said. Purdue is "experiencing a surge of applications" – it offers 11 of the 12 most highly paid degrees – and students tell the school they want degrees with bang for the buck, he added.
Incredibly, Daniels said he wasn't "particularly impressed with anything we've done so far" to rein in costs and stabilize tuition at Purdue: "It's a start." What stands out at Purdue is that many faculty, staff and administrators have voluntarily forgone raises in order to support a fund that helps keep tuition down, he said.
Colleges spend more on what they value – 'creature comforts,' not teaching
Told by Rep. Gary Peters, D-Mich., that federal money doesn't seem to be "going into the classroom," as evidenced by higher education's increasing reliance on low-paid adjunct instructors, Daniels agreed that "the terms of competition lately have not been academic excellence" but rather "creature comforts."
Andrew Kelly, director of the Center for Higher Education Reform at the American Enterprise Institute, told Peters that the typical university "is signaling its priorities" when it heavily depends on adjuncts – away from teaching and toward "amenities."
Students are in a terrible position now because the value of a college degree is declining but "the counterfactual is worse" – having only a high-school education, Kelly said. Colleges provide "no signal to students about the value of different offerings" in terms of earnings potential, and they have wide latitude to "price discriminate" against students.
Congress should institute a "performance floor" to yank back federal money from those schools that have the worst student outcomes, and institute risk-sharing so schools have "skin in the game," Kelly said.
Yet Kelly urged lawmakers not to make too many assumptions about how debt is affecting students currently.
He said the best study he's seen shows only small effects of student loan debt on home ownership: "As we invited more people to go back to college [during the recession], people with debt are going to look like they're struggling more in the economy."
Unfair advantage if you have a 'tiger mom'
Lawmakers were concerned that an ISA system as proposed by Daniels would primarily benefit students who had good credit or were enrolled in programs with high earnings potential.
Rep. Bill Cassidy, R-La., said he thought investors would gravitate toward students who had a "tiger mom."
.@BillCassidy asks @AndrewPKelly about the effect student loans have on low-income students and their families pic.twitter.com/r5FvmeqSMO

— JEC Republicans (@JECRepublicans) September 30, 2015
If the market for ISAs takes off, "you'll see a spectrum" of offerings, Daniels predicted, and even students who don't get the best terms will have "some limits" on how much they must repay. Investors will likely bid higher for students in degrees and career paths they think are the strongest in the market, he said.
But the most frequent use of ISAs would probably be to "recapitalize a student" after a couple years in school, Daniels said. Alumni and philanthropies could also fund ISAs for students who aren't the strongest economic bets, he added.
Sen. Mike Lee, R-Utah, touted an initiative by Utah Valley University to give students guidance on financial services, and asked how much it would cost for schools to tell students the debt load per major. "Approximately zero" dollars, Daniels answered: "A little counseling, a little financial advice goes a long way," especially if families learn they don't have to borrow so much.
The biggest problem is not high debt loads – those tend to be among grad students with bright prospects – but lack of transparency regarding programs that have the best value and return, AEI's Kelly told Sen. Cotton.
Asked by Cotton whether Congress has the "skill set" to determine interest rates for student loans, Daniels chuckled, calling it a loaded question. Interest rates should be set by the market, because the current system creates distortions and sends misleading signals, Daniels said.
Like The College Fix on Facebook / Follow us on Twitter
IMAGE: James O'Gara Photography