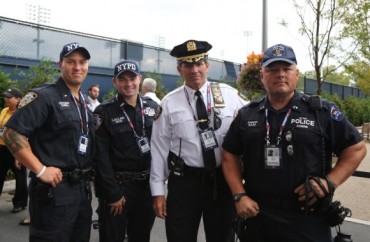 In an apparent free speech protest of a visiting NYPD officer at the University of Massachusetts Amherst this week, unidentified individuals covered the campus in anti-police chalk messages that compared police to the Ku Klux Klan and the NAZI SS.
"Disband The #Blue Klux Klan," "NO NYPD @ UMA!" and "#Stop the CopSS," were among the many statements scrawled in large lettering on Monday and Tuesday along walkways near the center of campus. Another message stated: "Americans killed by police since 2013: 2599."
These displays came as a candidate for the university's chief of police position – a longtime New York Police Department officer – interviewed at the campus in a highly publicized visit.
Deputy Chief Joseph Riley "will visit campus Monday and Tuesday and will participate in a campus-wide forum Tuesday," MassLive had reported prior to his arrival, noting he served with the NYPD since September 1980.
Seen outside #UMass library. pic.twitter.com/cH9GcbvLEJ

— Patrick Hoff (@Hoff_Patrick16) October 26, 2015
Few days after UMass announces police chief finalists: pic.twitter.com/7zZkhGOQoS — Haileigh Hildreth (@whatdahaill) October 26, 2015
The Daily Collegian campus newspaper had also reported on the NYPD officer's pending arrival.
Images of the displays quickly spread through the campus' student population through social media, and the student government president even told the Collegian she was happy to see peers expressing themselves.
Additional chalk comments included "if 'all lives matter' then Black LIVES Matter!" and "Black is Beautiful."
Students interviewed by the Daily Collegian campus newspaper were generally opposed to the messages.
"I don't think it's a fair generalization to make about the NYPD…(The Black Lives Matter campaign) is itself a spectrum too," student Mentweab Kebede told the paper.
The final two candidates for the police chief search are scheduled to visit the campus next week.
Like The College Fix on Facebook / Follow us on Twitter