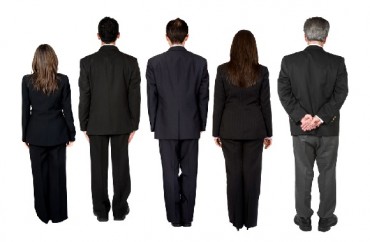 More than half of liberal philosophers willing to discriminate against conservatives in hiring, study finds 
A new study found ideological bias is perpetrated much more frequently against conservatives than liberals in the field of philosophy.
The study, published April 16 in Philosophical Psychology, is one of many which reveal ideological bias is one of the central means of discrimination in colleges and universities.
The new study was conducted by a "politically diverse" team of social psychologists and philosophers on 794 participants composed of philosophy professors, post-graduate researchers and graduate students mostly from North America and Europe.
The study's participants were 74.8 percent left-leaning, 14.2 percent right-leaning, and 11 percent moderate.
Results found a majority, 56 percent, of the left-leaning philosophers expressed a willingness to discriminate against their right-leaning peers in hiring decisions at least occasionally.
Left-leaning participants were also more likely to be willing to discriminate against their conservative colleagues in all four categories researchers studied: the review of papers, the assessment of grant applications, symposia invitations, and hiring decisions.
Researchers wrote that 32 percent of the left-leaning participants indicated willingness to discriminate against right-leaning papers, 42 percent against right-leaning grants, and 38 percent against right-leaning symposia speakers.
In contrast, right-leaning participants expressed a willingness to discriminate against their liberal peers in hiring decisions 46 percent of the time, and only 20 percent indicated willingness to discriminate against left-leaning papers, 23 percent against left-leaning grants, and 12 percent against left-leaning symposia.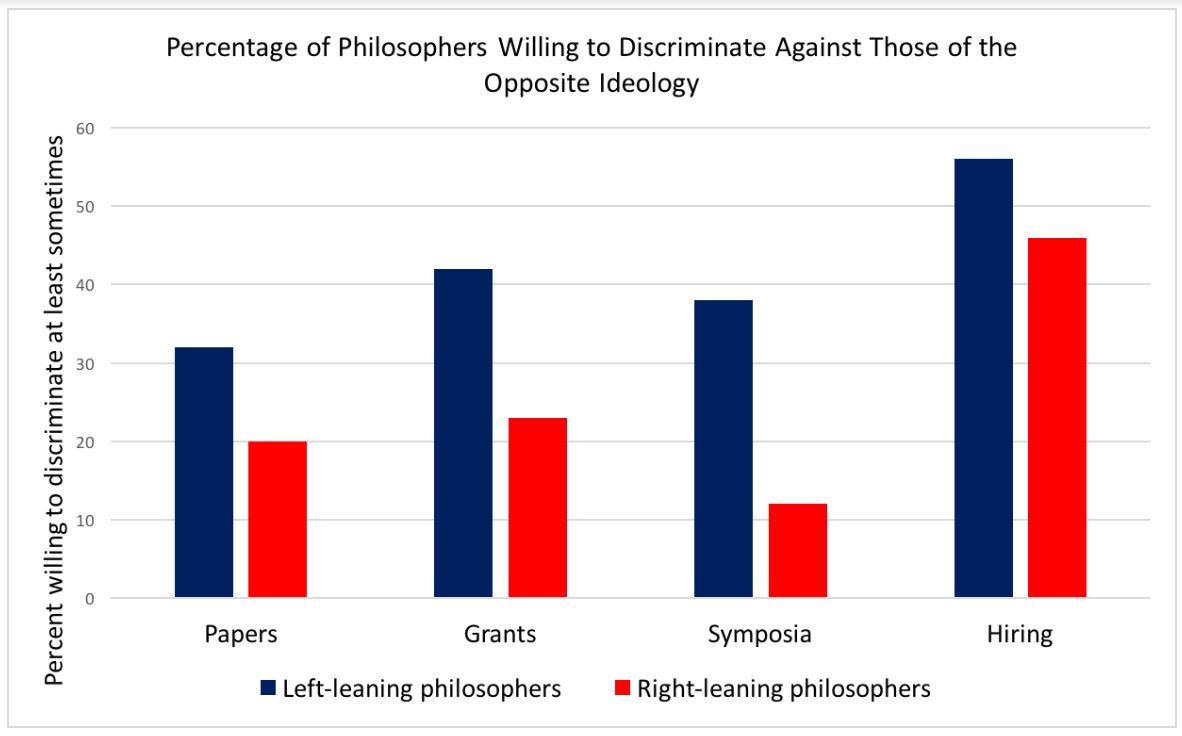 Participants also reported they believe right-leaning individuals face more discrimination in philosophy than left-leaning individuals.
Some conservatives used a verbal response section to sound off on discrimination they feel they experience in the field.
"If my professional colleagues knew that I am moderately right-wing," said one participant, "then half of them would call me a 'subhuman pig' and treat me accordingly. The other half would keep silent for fear of being next."
Some liberal philosophers were explicit in this section about their willingness to discriminate against right-leaning peers, the researchers said.
"I would loathe to hire a colleague who had views that had classist, racist, sexist, or nationalist implications, due to workplace issues," said a left-leaning respondent.
The researchers also reported that "a number of respondents" claimed right-wing ideas could not stand up to philosophical scrutiny.
"Conservative ideas tend to lose in fair competition in the marketplace of ideas. They are given their chance, and are generally shown to be bad. People who accept many of them tend to be bad philosophers," said one participant.
Another said: "I'd be inclined to negatively review a right-leaning paper for the simple fact that I believe, given the arguments, that the political right get things wrong. We're talking about matters of objective truth here."
Another respondent said "the widespread rejection of conservative positions" in philosophy is similar to "bias against Creationists among biologists."
The researchers said there were no similar claims by right-leaning philosophers that left-leaning philosophy is "wrong" or "bad" philosophy.
The researchers had hypothesized that left-leaning and right-leaning individuals would report "similar willingness to discriminate against each other." They said they found the results of the study "surprising."
"[T]he result I personally found most surprising was that a significant minority of the philosophers in our sample showed open hostility and willingness to discriminate against their political opponents," one of the study's researchers, Uwe Peters, told The College Fix via email.
"This is about as striking as it is sad, because philosophers typically take themselves to be open-minded thinkers and committed to high moral standards. … Our findings cast some serious doubts on this view, and suggest that it's about time that philosophers paid attention to ideological bias and diversity in their field."
Peters said philosophers should stop denying the existence of ideological hostility and discrimination in the field and investigate it further, especially in the United States.
"It would also be nice if our data motivate some of the major institutions in the field, e.g., the American Philosophical Association, to finally investigate ideological bias and diversity in philosophy," he said. "So far, this hasn't happen. Despite claiming to be committed to diversity of all kinds and promising funding for research on diversity, the APA has done no research on ideological diversity at all, and they rejected my proposal to conduct such research with them."
MORE: Diversity and inclusion monitors to join faculty hiring committees at SDSU
IMAGE: Shutterstock
Like The College Fix on Facebook / Follow us on Twitter