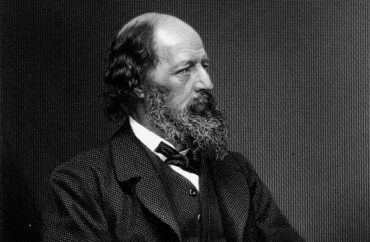 Their aim is to make us question our understanding of reality
A recent British report on a 19th-century English poet's inclusion on an LGBT walking tour points to the way "queer theory" obscures history.
"Alfred Lord Tennyson has been named as an LGBT historical figure on a tour for schools," The Telegraph reported Friday. "The former poet laureate's personal life has been swept up in a project aimed at 'queering' the history of the Isle of Wight, and he has been included on a list of the island's 'notable LGBT people.'"
"While there is no clear evidence Tennyson was homosexual, the Isle of Wight residence where he lived with his wife of 42 years has been included in a tour of sights linked to LGBT figures whose stories may have been obscured by 'cis/heteronormative narratives,'" The Telegraph reported.
"We have included Tennyson because [fellow poet] Arthur Henry Hallam inspired a number of his poems and the pair enjoyed a deeply affectionate relationship," according to the website of Out On An Island, the "heritage and oral history project" dedicated to "LGBTQ+ History with an Isle of Wight connection," which put on the tour.
"After Hallam's untimely death aged 22, Tennyson said, 'he was as near perfection as mortal man could be,'" the website stated.
Note that Out On An Island does not declare that Tennyson and Hallam were homosexual or had sexual relations.
Indeed, as historian Zareer Masani told The Telegraph, in 19th century "close, even romantic friendships with one's own sex could be entirely platonic."
"Hallam and Tennyson met at Cambridge in 1829, and formed a very close relationship, that may have been homosexual," according to the BBC, which doesn't make a case that it was or it was not.
Once more, even Out On An Island's own materials stated that people must be "cautious not to impose our modern ideas of identity and terminology," according to The Telegraph.
This confusion is typical to queer theory, which aims to deconstruct all knowledge, including our record of the past.
Queer theory does not make a careful historical case — even if it were possible to make one — that a writer such as Tennyson was gay or straight. Instead, it simply aims to confuse our assumptions, such as the idea Tennyson and Hallam simply had a close male friendship.
The assumptions which "queer theory" tries to break down even go beyond topics related to sex.
"Despite the rhetoric of inclusion with which queer theory cloaks itself, queerness is not very inclusive," Grove City College religious studies Professor Carl Trueman wrote in an essay on the subject last October in First Things.
"[Queerness] is not the category that includes all other categories," Trueman wrote. "Quite the contrary. It is the category that destabilizes, subverts, and thereby ultimately excludes all other categories."
According to New York Times writer Pamela Paul, whom Trueman quoted in his article, "Queer theory is about deliberately breaking down normative categories around gender and sex, particularly binary ones like men and women, straight and gay."
"Saying you're queer could mean you're gay; it could mean you're straight; it could mean you're undecided about your gender or that you prefer not to say," Paul wrote.
By including Tennyson on a list of "queer" authors, Out On An Island isn't making an argument about Tennyson.
This approach runs counter to the discipline of history, which depends on careful argument and attention to the facts.
For queer theory, "it is categorical stability, not the categories themselves, that is the real enemy," Trueman wrote.
"If C. S. Lewis warned eighty years ago of the abolition of man, we today are witnessing the abolition not just of 'man' but of meaning as a whole," he wrote.
Tennyson's legacy might be yet another casualty of the queer theorists' attempted abolition of objective reality.
MORE: How social justice is destroying objectivity, excellence, due process, and science
IMAGE: Poetry Foundation
Like The College Fix on Facebook / Follow us on Twitter