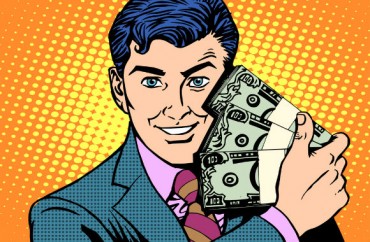 Most adjunct professors are struggling just to make ends meet, but this adjunct at the University of Pennsylvania's Wharton School can drop six grand on a dime.
Eric Schoenberg, who has "repeatedly spoken out in the past against income inequality and the corrosive influence of corporate money in politics," gave the Democratic National Committee more than $100,000 this year just to stop Wharton's most famous graduate, Donald Trump, from getting elected.
The Daily Pennsylvanian reports on findings of relevance to the Penn community from the recent Wikileaks dump of DNC emails:
Watchdog website OpenSecrets.org pegged Schoenberg's 2016 contributions to the party committee at only $33,400. However, in email chains included in the Wikileaks dump, Schoenberg also sent a wire transfer of $75,000 to the DNC to attend a June 8 fundraiser in New York with President Obama.

MORE: Professor asks students on final exam: Is Trump the Anti-Christ?

A DP analysis of public donation records and leaked DNC emails estimates Schoenberg's total donations to the DNC in 2016 to be more than $108,000, not including the $500 he gave to Josh Gottheimer, a former Bill Clinton speechwriter and candidate for Congress in New Jersey, and the untold amount he may have given to super PACs, whose donor lists are not recorded.

He confirmed the wire transfer to the DP, but could not give a reason for why the figure did not appear in public records when a separate $8,800 donation made during the same week was included.
Leo Hindery, Jr. Morris Pearl & Eric Schoenberg say preferential tax treatment for #carriedinterest is "just wrong" pic.twitter.com/2JajA23Joc

— Michael Kink (@mkink) March 7, 2016
The DNC earmarked Schoenberg's $75,000 wire for its convention in Philadelphia this week. And that fundraiser that Schoeberg attended? It was at the home of BuzzFeed chairman Kenneth Lerer – right after BuzzFeed backed out of an advertising deal with the Republican National Committee, the Daily says.
MORE: Study says reading 'Harry Potter' lowers your opinion of Donald Trump
MORE: Professor backs Trump's 'no Muslims' proposal, doesn't get in trouble
Like The College Fix on Facebook / Follow us on Twitter
IMAGE: studiostoks/Shutterstock