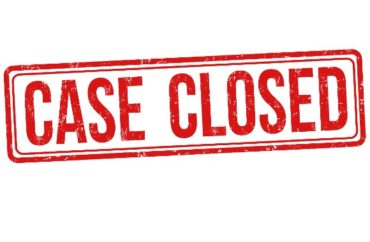 Campus put on high alert over carvings of swastikas
American University has closed its investigation into swastikas and other Nazi imagery found carved into a bathroom wall. The private D.C. school did not identify a viable suspect after a student reported the vandalism on September 7.
"The appearance of such vile sentiments causes great pain, and our priority is to support our Jewish community members and effectively address bias incidents," President Sylvia Burwell said in a September 21 email to the university community.
"The investigation is inconclusive regarding who is responsible for the graffiti, their intent, or when it occurred," Burwell said. "It is possible that the graffiti may have been in the bathroom stall for some time, as there was no evidence of fresh carving or shavings where it was found."
"The vandalism consists of two swastikas, Nazi SS (Schutzstaffel) bolts and a Star of David," The Eagle, AU's campus newspaper, reported. The photos can be seen below.
"Interviews yielded no further information about the source of the graffiti or when it occurred," the president wrote. "While the investigation may be inconclusive, the pain caused by the graffiti is real and unacceptable."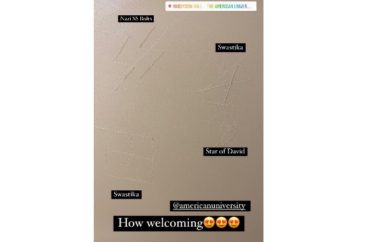 The College Fix first asked the housing office as well as spokesperson Matthew Bennett in a September 14 email if there existed a possibility that the graffiti had been in the bathroom for some time. Bennett referred The Fix to a September 13 statement that said the university was still investigating the matter.
The D.C. police did not assist in the investigation, according to the city's police department. Spokesperson Alaina Gertz told The Fix on September 23 that "this incident is currently being investigated by American University Police."
"At this time, the FBI cannot provide comment or confirm the existence of an investigation," FBI spokesperson Samantha Shero told The College Fix on September 14. The Fix had asked if the FBI planned to get involved in the investigation as a potential hate crime.
Burwell apologizes for how her words could have harmed people
Burwell, the former Secretary of Health of Human Services under President Barack Obama, apologized in her September 21 message for how she had handled the incident.
Burwell said "we must do better in these difficult situations, from educating about the terrible history and ongoing impacts of antisemitism to how we communicate about these matters."
"I apologize for the use of the word 'possible' in our initial characterization of the graffiti," Burwell said. "We sought to be cautious in our communication as the investigation was in its early stages and information was still being collected and reviewed."
She said that "regardless of the intent of those responsible for the graffiti" the mere "existence caused pain and trauma for members of our community."
She apologized for creating "additional hurt."
"We are concerned about any behavior or actions that targets our Jewish community at AU, and we are committed to confronting antisemitism in all forms," Burwell said.
MORE: Police close investigation into hate crime against lesbian school board member
IMAGES: Jason Churchfield/Instagram; Ducu59us/Shutterstock.com
Like The College Fix on Facebook / Follow us on Twitter