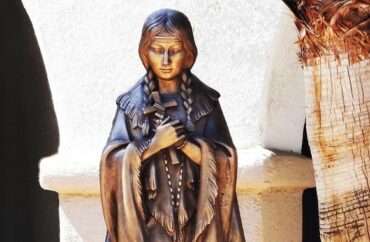 Institute is a 'safe space' — 'but in the sense that we are trying to make [Catholics] stronger,' professor said
A Catholic institute at the University of Michigan is beginning its second year of service and intellectual programming rooted in the faith.
The Kateri Institute for Catholic Studies "offers a home for faculty, staff, and students at the University of Michigan to integrate their studies with the Catholic intellectual tradition," according to its website. It also "fosters an atmosphere of friendship and intellectual exploration in a university setting."
English Professor Scott Lyons, who helps lead the institute, told The College Fix, "like all worthy projects, the Kateri Institute for Catholic Studies emerged from conversations among friends."
"As the old adage has it: if you want something done, you have to do it yourself," Lyons said. "So even though neither [fellow affiliated law Professor Howard Bromberg] nor I had any previous experience developing a new institute … we just plunged right in.''
Even more, "we are not a student ministry; we are an institute creating a home for the venerable, longstanding Catholic intellectual tradition on campus," Lyons said via email.  "The Catholic intellectual tradition sees no conflict at all between faith and reason."
The institute is named for St. Kateri Tekakwitha, a 17th-century Indigenous Catholic woman canonized by Pope Benedict XVI in 2012, according to the Saint Kateri Conservation Center. She is the first Native American saint recognized by the Catholic Church.
On Friday, the UMich Kateri Institute hosted a votive Mass and welcome reception for students, faculty and staff at St. Mary Student Parish.
Let's start the year right with a sponsored Mass this Friday. There will be pizza served at the reception after. pic.twitter.com/2Qm4ocMevD

— Kateri Institute for Catholic Studies (@Kateri_Inst) August 28, 2023
Since its launch in 2022, the institute has offered academic programming, social activities and religious life. In its inaugural year, the institute offered a lecture and seminar series called "The Life of the Mind."
Lyons and Bromberg said the institute has a variety of programming slated for 2023-24.
"Each semester has a general theme — Transcendentals, Ways of Thinking, Arts and Sciences — and speakers address those themes from their particular disciplines or expertise," Lyons said.
The institute also sponsors a film series called "Cinema Sanctus." Movies selected must have some Christian theme as well as genuine artistic excellence, Lyons said.
"The films are introduced by knowledgeable individuals who then lead a brief discussion afterwards," he said. "We have screened such cinematic gems as Malick's 'The Tree of Life,' Pasolini's 'The Gospel According to St. Matthew,' and of course, just in time for Christmas, Capra's 'It's a Wonderful Life.'"
Upcoming projects include co-sponsoring a Catholic legal studies conference in Detroit.
The daylong conference is called "Doing Justice and Loving Mercy: A Community Conversation on Criminal Justice Reform," Bromberg told The Fix, adding its aim is to advance Catholic conversations around criminal justice reform.
Additionally, the institute works closely with local Catholic parishes to "provide spiritual and liturgical nourishment for the students," Bromberg said.
"For example, every semester we sponsor a Mass devoted to our patron saint, Kateri Tekakwitha. The pastor of the local Newman Center is our chaplain and infuses our events with a prayerful dimension," he said.
Institute seminars "are conducted in a round table setting, including dinner, to promote collegiality and friendship among the participants," he added.
The university did not have a Catholic institute prior to Kateri's founding, the professors said.
"There are excellent programs like the Christian Study Center and student groups like Catholic Student Evangelization, and fantastic local churches near campus, but I do not know of anything now or in the past resembling the Kateri Institute for Catholic Studies," Lyons said.
"The most important reason for the Kateri Institute's existence on campus is intellectual … we provide a home for Catholic thought on this secular campus," Lyons said. "And no one should be wishing that away.''
"Whatever one might think of the Catholic Church, one should admit that its intellectual tradition doesn't just compete with other traditions, but in many respects towers above them," he said, pointing out it was Catholic intellectuals who invented the modern university.
"Yet, sadly, our students report to us that today they feel discouraged from making faith-based statements or appeals to transcendence in their class discussions," he said.
"We get that, so part of our mission is to embolden them intellectually, to give them a little armor. In that way, we are, I suppose, a 'safe space' for Catholics — but in the sense that we are trying to make them stronger,'' Lyons said.
MORE: Catholic trade school forges ahead despite obstacles
IMAGE: Fine Art America
Like The College Fix on Facebook / Follow us on Twitter