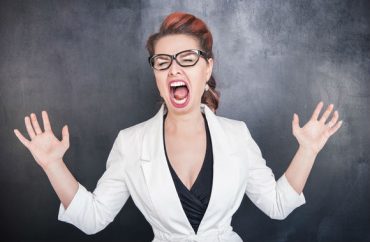 President prioritizes free speech over 'safety and well-being'
A doctoral student is accusing the University of Washington of creating a hostile work environment by letting anti-feminist provocateur Milo Yiannopoulos speak on campus in January.
Alan-Michael Weatherford, a diversity and queer studies instructor, filed a complaint through his labor union. He personally confronted UW President Ana Mari Cauce at a student government meeting last month, saying he was "very busy taking care of your mess."
Cauce bucked heavy pressure from students and faculty to cancel the Yiannopoulos event, hosted by the UW College Republicans (UWCRs), even after someone was shot outside the building where he spoke. Doing so would embolden other protesters to try to shut down other events, Cauce later told the community.
A law professor told The College Fix that Weatherford's union complaint "makes little sense" legally.
Respecting free speech 'will only replicate systems of inequality'
Weatherford made himself a target by organizing a "day of resistance" composed of "peaceful teach-ins" at the library across from Yiannopoulos's venue, the instructor wrote a lengthy op-ed in The Daily.
Hours before Yiannopoulos arrived, Weatherford and his crew started marching downtown to continue the protest. They covered their faces with masks because of UW's failure "to protect its own population" from "neo-Nazis" who supported Yiannopoulos, an "internet hate-mongerer," Weatherford wrote.
The instructor told Seattle Weekly that he tried to block a man who continually tried to film them as they marched.
By the next day videos and photos of his protests were circulating online, and Weatherford was "doxxed" when internet users found and published his email address, social media profiles and office location and hours.
He began receiving "homophobic and transphobic slurs" and threats of rape, while users "libeled" his page on RateMyProfessors, he wrote in the op-ed. (Those reviews have apparently been removed, while several new glowing reviews have since been added. His page is now limited to registered users.)

Weatherford has since shut down his social media pages and his university email is no longer listed on UW's directory. He declined to teach class the Monday after he was identified.
"All of this is especially shocking, provided that I was just recently nominated for a Distinguished Teaching Award and have a great track record in teaching my own courses," Weatherford wrote. He said teaching "diversity courses" made him "an exemplary target."
MORE: UW president says we can't shut down Milo any more than Black Lives Matter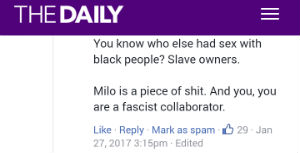 The instructor urged students to consider the "enormous differences in power, privilege and safety" between people with the same constitutional rights.
"I am urging you to recognize that blithely promoting free speech in all contexts without consciously and intentionally prioritizing the safety and well-being of the most vulnerable will only replicate systems of inequality," he wrote.
"I ask that in the future when the University considers upholding free speech at the expense of physical safety, that the administration thinks hard about those consequences," Weatherford said.
He did not respond to interview requests from The Fix.
Falsely accused of 'exchanging grades for sexual favors'
The instructor wasn't the first person to get doxxed in response to the Yiannopoulos event: Two weeks earlier, UWCRs President Jessie Gamble was pictured on a flyer that included phone numbers for her and her father, calling her "the racist in your class."

Weatherford's department, Comparative Literature, Cinema and Media, released a statement against the "hateful internet bullying, sexual harassment and violent threats" against him, including claims of "exchanging grades for sexual favors."
Echoing Weatherford's op-ed, the department said the behavior toward him was not protected by the First Amendment. It cited a 1992 Supreme Court ruling "protecting individuals from … the possibility that the threatened violence will occur."
MORE: College Republicans leader says UW employee threatened her over Milo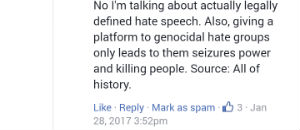 The instructor's union complaint that allowing Yiannopoulos on campus created a hostile work environment was revealed in a lengthy feature in The Chronicle of Higher Education. After Weatherford filed a report with university police, a detective started investigating a threat against him and an officer now escorts him to class, it reported.
Grievance is just a formalized heckler's veto
George Washington University Law Prof. John Banzhaf told The Fix that Weatherford's hostile-workplace complaint is not legally actionable because it targets "things which are essential" to his workplace.
"Most would agree that an important purpose served by a university is to permit its students to be exposed to new and often unpopular viewpoints, often by inviting (or having student groups invite) them to speak on campus," Banzhaf said in an email.
He called the filing of a grievance an update of the "heckler's veto," in which "the mere threat that there will be disruptive hecklers" leads a university to "stifle speech with which the hecklers disagree."
The UW taking Weatherford's union grievance seriously would be like "acting on complaints from doctors that they may be exposed to blood with the AIDS virus," Banzhaf said.
MORE: UC-Davis protesters force cancellation of Milo event
Like The College Fix on Facebook / Follow us on Twitter
IMAGES: DarkBird/Shutterstock, The Daily screenshots