'Believe the accuser' is what dumb feminists say
Atheist social-justice activist Richard Carrier believed the survivor – until the survivors and their allies in the atheism movement accused him of sexual harassment.
Now he's threatening legal action against his accusers, his former blog network and the conference that banned him in the wake of allegations by Arizona State University student Amy Frank.
A former speaker to Secular Student Alliance chapters before that organization began investigating Frank's claims, Carrier describes himself as a feminist and promotes an "intersectional" strain of atheism. Before the allegations, he was perhaps best known for arguing against the existence of an historical Jesus Christ.
In a blog post last weekend, Carrier said his former comrades are confirming stereotypes of feminists by "believing any claim told [to] them without investigating it, and exaggerating ordinary and relatively harmless behavior into dangerous sexual harassment."
Scorned secret lover among the accusers
Stephanie Zvan of the social-justice atheism blog network The Orbit and PZ Myers of Freethought Blogs, which until recently published Carrier's professional blog, claim to have spoken to two others who alleged a pattern of sexual misconduct against Carrier following Frank's allegations in June.
Carrier believes that one of his two mystery accusers is none other than the atheism conference leader that banned him from future Skepticon conferences.
MORE: Prof accused of sexual assault sues student for defamation
In his blog post, Carrier says it was Lauren Lane who harassed him after they had an off-and-on affair a few years ago, accusing her of "boundary-pushing" behavior after their affair.
Lane was the one who first made advances on Carrier without his permission, he said, and she persisted in trying to salvage their romance months later, when Carrier confessed his infidelity to his then-wife.
"She did not accept my wishes" to end the cheating and remain friends, Carrier wrote. "She harassed me repeatedly with attempts to persuade me to continue our relationship. I repeatedly and explicitly told her to stop. I explained that she needed to take no for an answer, and that I was in an emotional place and she needed to leave me alone for a while."
He claims he "block[ed] all communication with her and physically avoid[ed] her" when Lane wouldn't stop. "I never pushed against any boundary she stated to me. I never harassed her."
Carrier also thinks that another accuser, whom he believes is The Orbit blogger Heina Dadabhoy, has a vendetta against him.
MORE: Social-justice atheism leader accused of sexually harassing students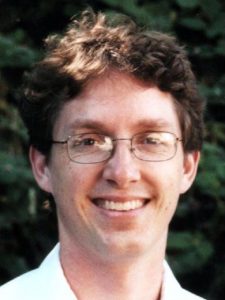 He said Dadabhoy, who prefers gender-neutral pronouns, had rejected a "polite" relationship request from him. "I merely sent Dadabhoy one letter expressing my interest in them. Dadabhoy refused me. I accepted their refusal and apologized."
Carrier wrote that baseless accusations are endangering the feminist cause in the atheism movement.
"I have always said competent feminists don't just 'believe the accuser,' he wrote. "They take accusations seriously, by conducting or calling for a formal or at least competent investigation."
Carrier may be working off a different definition of "competent." Three years ago he decided that Skeptic editor Michael Shermer had raped a woman that year, as she had claimed, based on the "preponderance of evidence" standard, which requires 50.01 percent certainty of guilt.
MORE: Accused law student sues the feds to end 'unlawful' investigations
Propositioned while her husband was asleep
In a cease and desist letter dated July 6, Carrier's attorney called Frank's accusations "false" and "contradicted by both witnesses and an independent professional investigation." In addition to ceasing her accusations against him, the letter demands that Frank "publish a full written retraction" on Facebook.
The letter gave Frank 10 days to comply with the demands. Frank has not updated her public Facebook page since accusing Carrier in June. (Though her accusing post was marked private shortly before The College Fix reported on it in June, Frank has apparently restored it since the report.)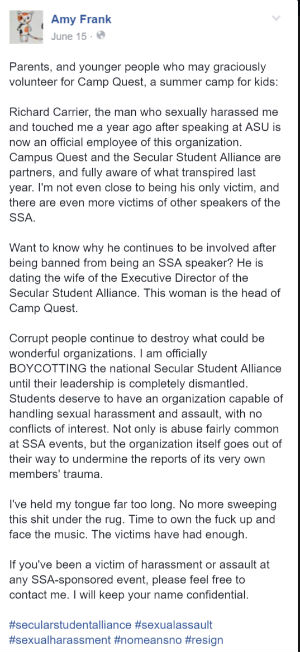 In June Carrier told The Fix that he had not decided whether to sue Frank. In an email Tuesday, Carrier said he now plans to decide whether to sue Frank after the completion of his other lawsuits, though he didn't give details on them or specify which have already been filed and which are potential lawsuits.
On Saturday a GoFundMe page intended to help defray the costs of Frank's expected legal expenses was created by Cara Zelaya, who left the Secular Student Alliance as an employee late last year.
MORE: Donor behind new atheism chair says Reagan 'downfall' of country
The GoFundMe page provides an account, attributed to Frank, recounting an after-party following a talk given by Carrier at Arizona State University last April:
During the course of the night, Dr. Carrier brought up having sexual relations with my husband and I. He told me that he was disappointed that my husband wouldn't let me just have sex with him, but that'd he'd be willing to have my husband involved. My husband quickly fell asleep after arriving [at a friend's] house. Dr. Carrier kept whispering to me how my husband wasn't awake and wouldn't be for a while (insinuating that he wouldn't know if we did something inappropriate) […] He repeatedly pointed out the fact that'd he had a vasectomy and how it much [sic] it increased his sexual performance.
On Monday Frank told The Fix in a Facebook message that the comments attributed to her on the GoFundMe page had come from her original complaint to the Secular Student Alliance last April.
"Dr. Carrier made me feel very uncomfortable," Frank's complaint to the alliance says. "He is very obsessed with his sex life and has no problem sharing it with students, and trying to involve them in it.
MORE: Pro-atheism group harasses university over Bible verse
"I would never feel okay going to another speaking event of his, or being in a private setting with him again. I think it would be unfair to his future female audiences to not say something about his actions. If something happened, I would feel partially at fault for not reporting his behavior."
On Thursday a supporter created the Facebook page "We Stand With Amy" to promote Frank's GoFundMe.
"In June of this year, Amy Frank decided to publicly break the silence regarding her experience of being sexually harassed," the page's description reads, which says it is being operated by Frank's friends. "We could not be more proud of her for taking such a brave step and for being an example to women in the same situation."
On Monday, Zvan said she too had received a cease and desist order from Carrier's attorney.
EDITOR'S NOTE: The author is a former student member of the Secular Student Alliance whose onstage interview at Skepticon was criticized by racial activists.
MORE: Professor accused of vehemently attacking Christianity in humanities class
MORE: Atheist groups target Christian professor for history of science curriculum
MORE: MIT prof says feminism attacks 'nerds'
Like The College Fix on Facebook / Follow us on Twitter
IMAGE: Argus/Shutterstock, Richard Carrier/Wikimedia Commons, Amy Frank/Facebook