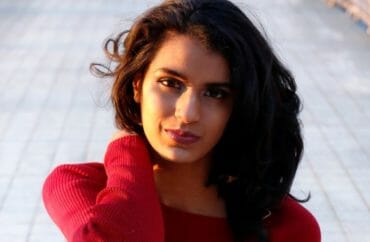 Many found it acceptable to be hateful toward me because they perceived me as 'hateful'
It is difficult to express conservative views as a college student without being called names, attacked personally, or even threatened by peers. I know because I've lived it.
The worst came after I appeared on Fox News in May to voice alarm over a new course at my Ivy League institution that deeply criticized Donald Trump while venerating Barack Obama.
"Based on the syllabus it doesn't seem like a fair conversation," I said about the new government course offered this past fall at Cornell called "America Confronts the World." The syllabus accused Trump of xenophobic nationalism while describing Obama as a pragmatic cosmopolitan.
"If I were to walk into the classroom I don't think I would feel comfortable expressing my views. I am somebody who likes to take a fair stance. I think it's important that we are critical of the president but we also recognize the good that he's done. I don't think that would be encouraged in this class."
Asked by the Fox News host if there is an overwhelming liberal bias at Cornell, I said yes.
"When you have a professor telling you what is right and what is incorrect rather than having the students decide for themselves, to research beyond the headline and analyze the situation, I think they just take whatever the professor tells them and they are not able to see the indoctrination," I said.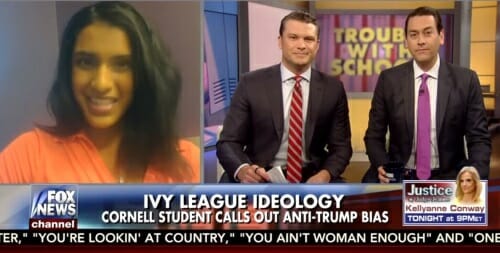 "Being a conservative, or even being a moderate, is a very difficult lifestyle here," I added, explaining that I was stepping down as an RA because my superiors bristled at my right-leaning politics and my insistence that RA meetings present students with both sides of any issue.
"Her professors may see that segment, good luck to her," one of the Fox & Friends' hosts had said as we ended the interview in what became an ominously prophetic closing.
I had done the interview, not to show support or disagreement with any particular person, but to show the ridiculousness in comparing eight years of Obama's presidency to the first 100 days of Trump's term.
While I expected disagreement from many Cornellians for my views, I was mentally and emotionally unprepared for the backlash, name calling, and threats to my physical safety.
Some peers called me "hateful" for being critical of the course, even though I never attacked the professor's character. Others suggested I was bigoted, even though they had never met me.
One threat I received was over Facebook messenger, where someone said that they wanted to hurt me. Considering that Cornell University's College Republicans president had been physically assaulted right after Trump was elected — shoved to the ground and called a "racist bitch" — threats around here are no joke.
MORE: Cornell student assaulted for being Republican
But that wasn't all.
The Cornell Daily Sun campus newspaper published an article largely critical of my Fox News appearance that also gave the impression conservatives and liberals on campus were against me.
After talking to some people quoted by the Sun, I found that their quotes had been taken out of context and misused in a deceitful way to make it seem as though they were more opposed to what I said.
Some comments from peers on the Sun's Facebook page about the article referenced "fighting" to defend the professor teaching the controversial course, and I interpreted it as them wanting to physically fight me. In retrospect, perhaps that is not what they meant, but at the time it was an emotionally charged issue. I was apprehensive.
I stayed in my room for days because I wanted to avoid campus. Even though there were a lot of messages of support from home, I grappled with the fear of not being accepted or respected simply because of my views, of being mocked and taunted, and possibly even attacked.
This past fall semester the stress — and trouble — had remained.
I've been stalked, but I am unsure whether that is related to appearing on Fox News and my views. Regardless, it's difficult.
Underscoring that, I'd feel nauseous and extremely nervous when I had meetings with professors or students, even if nothing bad came out of those meetings.
At one point, I considered unenrolling and finishing my remaining course credits online. Instead, I ended up seeking help from a therapist.
Today, I am in a much better mindset now, though still a work in progress, and I understand that my opinions are just as valid, given that I have also spent a lot of time on research and reflection.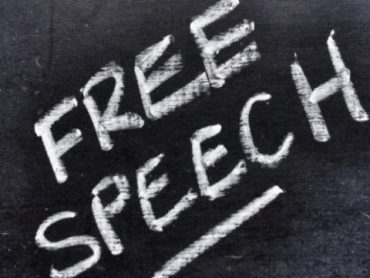 As somebody who has faced so much unpleasant behavior and words from others, one would think that I would support hate speech bans. However, I believe that banning hate speech suppresses those with unpopular ideas, like mine. Moreover, who determines the hateful rhetoric, and where do we draw the lines?
From my situation, many found it acceptable to be hateful toward me because they perceived me as "hateful." What hypocrisy.
But I am not alone in my struggle. Many people holding views similar to mine will likely not express their beliefs in the classroom or on campus out of fear of facing the isolation and threats I faced. This becomes a disadvantage for college students as the entire point is to learn about various ideas.
Threats to safety should be reported. But when it comes to hateful speech, a better approach is having more respectful conversations. We don't have to agree, but a civilized conversation helps us understand the various views that exist and build the tolerance needed for the real world.
MORE: Cornell students hold 'Cry In' over Trump victory
Like The College Fix on Facebook / Follow us on Twitter