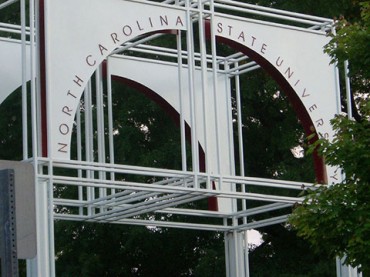 A North Carolina State University official's claim that it's losing opportunities for research contracts, owing to the state's open-records law, is drawing skepticism both from inside and outside the school.
Some companies refuse to do business with NCSU because "we can't promise them we can protect their information" under state law, Terri Lomax, vice chancellor for research, innovation and economic development, told WRAL News last week.
The law creates multiple exceptions to what information must be made publicly available. For example, trade secrets, personnel files and legal counsel communications to a public agency or board are exempt.
It's not clear what action NCSU is planning to convince state lawmakers to revise the law to protect business information.
Chancellor Randy Woodson told the University of North Carolina system's board of governors in February that the law caused NCSU to lose industry-sponsored research opportunities, but he hasn't spoken publicly about it since and a university spokesman said it wasn't "on the top burner" for him, according to WRAL.
Lomax, in contrast, said the school is mulling whether to "go out and form an outside nonprofit entity" to seek changes to the law.
Two or three companies a year decline to work with the school because of the open-records law – out of more than 1,000 that do work with the school each year – but those holdouts are big ones, Lomax said.
Quintiles had opted out of working with the veterinary school "a couple years ago," Lomax said, but a Quintiles official told WRAL he wasn't aware of any such discussions and that Quintiles had worked with another public agency, University of North Carolina Hospitals, with no records problem.
Gene Pinder, director of marketing and communications for NCSU's Centennial Campus, the school's research park, told The College Fix he was unaware of any company that has "inquired about or concerned themselves with the open records law" in relation to potential business with NCSU.
Pinder pointed to a Triangle Business Journal article from last year on NCSU's partnership with Eastman Chemical, which included the unusual step of settling on intellectual property rights ahead of time. The Journal called it a "one-of-a-kind relationship" between Eastman, which invested $10 million in NCSU research, and the school.
Eastman's Stewart Witzeman told WRAL that confidential information can be managed so that it's not subject to open-records requests, including by simply not sharing some kinds of research with professors.
Lomax also told WRAL the North Carolina Railroad Company (NCRR) refused to do business with the university because of the open-records law. The company told WRAL it doesn't "discuss contract negotiations."
As a state-owned company, NCRR appears to already be covered by the open-records law. The governor and Legislature appoint all members of the board, and "The State of North Carolina is the sole owner of all common stock of the Company," according to financial statements from 2011.
Jonathan Jones, director of the North Carolina Open Government Coalition, told The College Fix that NCRR gets a "special exemption" under its own statute. It doesn't have to reveal "information related to a proposed specific business transaction where inspection, examination, or copying of the records would frustrate the purpose for which the records were created," or "information that is subject to confidentiality obligations of a railroad company."
That NCSU "would cite a company that is itself subject to the public records law, and another that has done extensive research with other public agencies, as examples makes highly suspect the claim that the records law is hurting business," Jones said.
University Relations Director Fred Hartman told The College Fix that Lomax was "simply making a comment [to WRAL] regarding circumstances that impact our ability to attract research partners for the benefit of enhancing academic programs and opportunities for students."
College Fix contributor Matt Lamb is a student at Loyola University-Chicago.
Like The College Fix on Facebook / Follow us on Twitter
IMAGES: Joshua Willis/Flickr, NCSU News Dept/Flickr