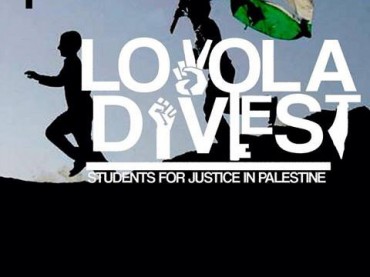 From campus Red Cross to a 'federally-funded retention program,' some unexpected backers
Loyola University-Chicago's student government passed a resolution to divest from Israel on a tie-breaking vote by an intern for the Council on American-Islamic Relations (CAIR).
Whether the resolution gets sent to the administration now depends on the student body president.
An entire cast of student groups with no apparent relation to any Israeli or Palestinian issue also supported the resolution – at least one in defiance of its national organization.
Danish Murtaza, speaker of the senate and CAIR intern, announced the tie and cast his deciding vote in favor of divestment at last week's meeting, which was followed by cheering in the audience, as captured on video.
CAIR Chicago provided legal guidance to the Loyola Students for Justice in Palestine (SJP) chapter after it was temporarily suspended owing to an altercation with a Jewish group on campus, as The College Fix reported.
The archived stream from much of the meeting was also posted by Zahraa Nasser, chief justice of the student government and a member of the SJP chapter.
Red Cross distances itself from campus chapter's activism
After the first reading of the divestment measure March 17, the SJP chapter drew official endorsements from a wide variety of clubs, some of which simply parroted language from the resolution.
"These companies that Loyola has invested in support the illegal occupation of Palestinian lands, restrict Palestinian freedom, and cause torment to civilians," the campus chapter of Amnesty International said in its endorsement.
Groups with no obvious connection to the Palestinian issue endorsed the resolution, although they did not respond to requests for explanation.
"We refuse to remain complicit in human rights violations and urge our administration to choose neutrality by pulling out its investments from corporations that profit off of the Israeli occupation of Palestine," wrote the Loyola chapter of the American Red Cross in its endorsement.
That drew a disclaimer from the Chicago chapter of the Red Cross. A spokesman told The Fix by email that the national organization "is politically neutral and that [Loyola] group does not speak for us."
Achieving College Excellence (ACE) at Loyola, "a federally-funded retention program designed to help students who identify as first-generation college-students and/or as having high financial need," simply copied the resolution text in its endorsement on SJP's page.
ACE's leadership council gave itself a pat on the back in the endorsement: "It takes true leadership to stand on the right side of history and promote equality and justice for all."
ACE doesn't mention the resolution on its Loyola page or Facebook, Twitter or Instagram profiles.
Interfaith efforts take a step back because of divestment
A Jewish student at Loyola told The Fix he isn't opposed to human rights, social justice or socially responsible investing, but he opposes the resolution because it uses those ideals to advance an anti-Israel position.
"It's upsetting" when other students tell Jewish students that the resolution isn't anti-Semitic, said Brandon Welch, who is involved with Hillel on campus. He claimed that SJP ignores human rights abuses against Palestinians in Egypt, Syria and Jordan.
He said interfaith efforts between Muslim groups and Hillel have been hurt by the divestment movement at Loyola, which is backed by the Muslim Student Association and Middle Eastern Student Association among others.
The divestment movement "poisons" the hearts and minds of students, Welch said, because they grow up to be leaders who act on those beliefs about Israel.
The university deferred questions to student government leaders.
The Fix previously reported that Michael Garanzini, current president of Loyola, and Provost John Pelissero, who was recently appointed interim president starting in July, criticized a similar divestment resolution last year.
In response to the resolution, Metro Hillel and Loyola's Hillel released a joint statement reiterating their opposition.
It praised Hillel student leaders for working "to expose the lack of intellectual rigor and moral clarity in demonizing Israel" and said "Hillel remains focused on inspiring students and making them proud to be Jewish."
Flavio Bravo, the student body president, must either sign or veto the resolution. He could not be reached for comment.
Last year's student body president vetoed the earlier measure. According to the student government's bylaws, Bravo has two weeks to make a decision.
College Fix reporter Matt Lamb is a student at Loyola University-Chicago.
Like The College Fix on Facebook / Follow us on Twitter
IMAGE: Loyola Divest/Facebook, Twitter screenshot