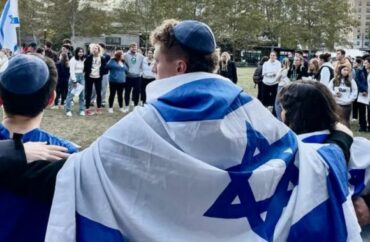 'In light of recent events, the Jewish affiliated organizations at the University of Pittsburgh have come together to support Israel and its citizens in their time of need.'
Jewish student organizations nationwide are hosting events and online fundraisers to support the people of Israel.
The country is currently under attack by the terrorist group Hamas. The war has resulted in over 2,000 deaths and began on Saturday, Oct. 7 after Hamas began attacking Israel with thousands of rockets and troops.
At the University of Pittsburgh, a cluster of Jewish orgs have joined forces to raise both funds and awareness.
For example, student organizations like AEPi, a Jewish fraternity on campus, have launched an online fundraiser with the goal of financially supporting Israeli civilians.
"In light of recent events, the Jewish affiliated organizations at the University of Pittsburgh have come together to support Israel and its citizens in their time of need," a joint Instagram post reads.
"We decided to start raising the money because we wanted a way we could directly aid specifically the civilians in Israel," Riley Crow, a member of AEPi, told The College Fix via social media messaging.
As of October 12, a total of $5,454 has been raised. The funds will be donated to Magen David Adom an organization that will "provide aid and first responders to the Israeli victims that have been affected by these tragedies," according to the fundraiser's description.
View this post on Instagram
Chabad at Pitt is another Jewish organization raising money and awareness for the people of Israel.
One of its members, Mussia Kuravskiy, is utilizing her 21st birthday to raise $2,100 to purchase and donate food to the soldiers.
According to an Instagram story posted on Chabad at Pitt's account on October 11, Kuravskiy is currently in Israel and will soon join the army to help defend the country.
Kuravskiy told The Fix she became a citizen of Israel a month and a half ago and is training to become a soldier.
"There's just no reason that there should ever be such violence and innocent lives taken in such a barbaric way," Kuravskiy said.
Sofia Rubin at Pitt is also selling candles to support her friends in the Israeli Defense Forces.
A student at Temple University in Philadelphia is raising money with hopes of purchasing protective gear and other supplies for her friends who live in the war torn nation.
"I've lost so many friends. I've lost so many relatives," Temple student Eden Ankri said. "We've all lost so many people. I've missed three funerals."
Ankri added, "I want to fight for my country even when I'm far away."
The College Fix was unable to reach Ankri for comment.
Princeton University students have already raised over $7,000 through their GoFundMe campaign. $3,000 of funds raised were sent by an anonymous donor.
"In the face of recent tragic events in Israel, we, a group of concerned Princeton University students with Chabad at Princeton, have initiated a GoFundMe campaign to stand in solidarity with the Israeli people and support efforts for lasting peace and the protection of innocent lives," the fundraiser's description reads.
Similar to the fundraising efforts of the Pitt students, Magen David Adom will receive the money raised to "assist their communities and provide support."
View this post on Instagram
The College Fix reached out to Chabad at Princeton for comment but did not receive a response.
A group of Jewish students at the College of William & Mary are also raising money for the people of Israel but received backlash for doing so.
Ben Fogel, one of the students, told a local news station that while tabling and raising money, protestors provoked them.
"There were some students who were trying to provoke us, coming up to us not in good faith calling us things like genociders, baby killers, you name it," Fogel said.
"Harassment and antisemitism are unacceptable on this campus," the university stated in a news release. "Such behavior is in stark contrast to William & Mary's stated values and mission."
Fogel has not responded to a media inquiry from The College Fix.
MORE: U. Michigan professor tore down posters of kidnapped Israelis
IMAGE: Chabad at Pitt/Instagram
Like The College Fix on Facebook / Follow us on Twitter