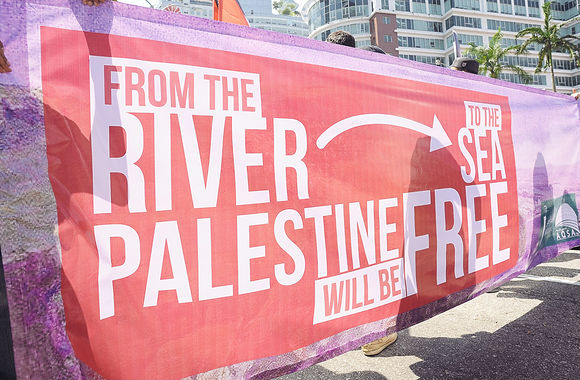 'Black Lives Matters stands with BDS'
Jewish groups are fuming after Portland State University's student government approved a boycott, divestment and sanctions (BDS) resolution that says Israel's very founding was an act of "occupation."
The three-page resolution, approved Monday by a 22-2-1 tally, calls on PSU to divest from companies by name – among them Caterpillar, Motorola and Hewlett Packard's consumer and enterprise sides – and also any that provide some role in Israeli military or settlement operations.
It connects their cause to the fight against South African apartheid and says "Black and Indigenous activists have spoken in support for Palestinian equal rights."
MORE: Feds must investigate BDS harassment of UCLA student leader
In language similar to a BDS resolution approved by the National Women's Studies Association, the resolution reads:
WHEREAS, the Israeli occupation of Palestinian land has been entrenched since 1948. During the 1948 Palestine War over 700,000 Palestinians were expelled and forced to leave their homes due to military advances in what has been called the Nakba. Many Palestinians to this day live as refugees in a diaspora and are not allowed the right of return to Palestine. 1948 was also the year of the Deir Yassin massacre in which over 100 Palestinians – men, women and children, in a small village of 600 people were killed by paramilitary forces.
Divestment Resolution: Passed
22 Affirmation
2 Negation
1 Obstain

— PSU Student Gov. (@ASPortlandState) October 25, 2016
PORTLAND STATE UNIVERSITY #BDS DIVESTMENT HAS PASSED!!!! ????????#pdxDivest

— Layla (@laypalestiney) October 25, 2016
The Student Senate meeting minutes recount a handful of opposing speakers saying the resolution will promote anti-Semitism, that it is "bigoted and one sided against Israel," and that it is "insulting" and doesn't present "the complicated history and nature of this conflict." (Audio from the meeting does not appear to have been posted yet in the Senate's public drive on Google.)
But most speakers spoke in favor of the resolution. Some excerpts:
Apartheid is a crime against humanity. Israel has committed these crimes. …

[The speaker] Participates avidly in social justice. Believes it is our job as a student body to not stand with the oppressor.

The oppression is systemic by the government of Israel on the Palestinian people. Black Lives Matters stands with BDS, if you stand with BLM why don't you stand with BDS. This resolution is not antisemitic. …

Israel is apartheid. Palestinians are not granted the privileges of Israeli civil law as Israelis do, including land ownership, 'public' roads, resources such as water. …

Israel should be held to the human rights standards all other countries are held to.
MORE: Israel film screening canceled because it will offend 'BDS faction' 
A member of the board said the current "apartheid was predicted in the 1940's," the minutes recount:
Opposing Israeli actions and supporting Palestinian struggle is to fight anti semitism. This resolution is ethical and just, all struggles are so interrelated, to not do this would mean none of us would be free.
According to Jewish student group StandWithUs, the Senate rebuffed an attempt to amend the resolution to "recognize the rights of both the Jewish people and the Palestinian people to self-determination."
In a heated press release Wednesday night, StandWithUs said the "occupation" reference to Israel's founding
makes it clear that the purpose of this resolution is to promote bigotry, not justice or human rights. Indeed, the sponsor of the resolution spent a significant amount of his speaking time justifying the notion that Israel has no right to exist and denying the rights of Jewish people to self-determination in their homeland.
It cited a pre-vote statement from the Cultural and Historical Association for Israel (CHAI) and PSU's Jewish Student Union that said the resolution "at best, has no practical effect on campus operations," and at worst, represents "misinformation and hate."
MORE: Surprise – student government says BDS threatens academic freedom 
The AMCHA Initiative, whose mission is "protecting Jewish students," said the resolution "referred to the right of return as one of the reasons for divesting, which would effectively eliminate Israel as a Jewish state."
PSU President Wim Wievel, who last fall fought anti-gun campus activists when the school armed some campus police, called the resolution "divisive and ill-informed" in a statement last spring when it was first introduced.
BDS is called for by Palestine civil society. PSU is beyond the times in doing divestment. pic.twitter.com/vqdNqc8eE5

— maxinef (@palsolPDX) May 10, 2016
He said it was a purely "political statement" because PSU "does not directly invest its funds," and that it was undermining PSU's "diverse and inclusive campus environment":
The tone and tenor of the BDS movement has made members of our community feel unsafe and unwelcome at PSU, and it is not acceptable to marginalize or scapegoat them. Anti-Semitism cannot and will not be tolerated on our campus.
Portland State @PresidentWiewel slams divestment proposal "DIVISIVE, ILL-INFORMED" #BDSfailhttps://t.co/0LBybPNIcw pic.twitter.com/6fOuDqRfqQ

— Canary Mission (@canarymission) June 7, 2016
StandWithUs has more background on the resolution, including opponents blocking a vote in June on technical grounds and hosting a sort of Jewish cultural fair on the night of the original vote.
Read the resolution and the minutes.
MORE: Surprise loss for BDS supporters in failed vote by academic group
Like The College Fix on Facebook / Follow us on Twitter
IMAGE: Khairul Effendi/Shutterstock
Like The College Fix on Facebook / Follow us on Twitter