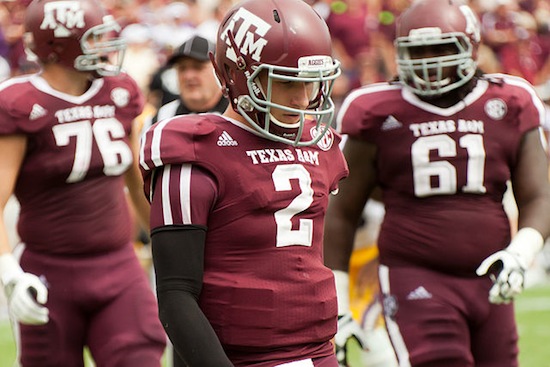 The athletic career of the nation's most famous college football player looks to be in jeopardy as further allegations emerge that he signed over 4,000 autographs in exchange for payment earlier this year.
Texas A&M quarterback Johnny Manziel signed autographs and memorabilia for dealers in two additional sessions — one in South Florida after the Discover BCS National Championship Game in early January; the other in late January in Houston, sources have told "Outside the Lines."

Florida-based autograph dealer Kevin Freistat backed and helped organize the additional two sessions, sources with knowledge of the events said. The sessions add to the other four signings reported last week by "Outside the Lines."

…"Outside the Lines" last week reported that Miami autograph broker Drew Tieman had Manziel sign roughly 1,100 pieces over two days in January in Miami. Two Northeast-based brokers told ESPN's Joe Schad that Manziel signed about 300 items that same week and that they paid $7,500. None of the sources has told "Outside the Lines" that they saw Manziel take money…
If proof emerges that Manziel took money from any or all of these autograph dealers, he could loose his eligibility under NCAA rules.
After capturing the imagination of the sports world with his dynamic play at Texas A&M, and becoming the youngest player ever to win the Heisman trophy, Manziel has been plagued by scandal over the off-season.
As reported previously by The College Fix, these scandals have caused coaches and general managers in the NFL to question Manziel's character and leadership qualities, leaving his future at the professional level open to doubt.