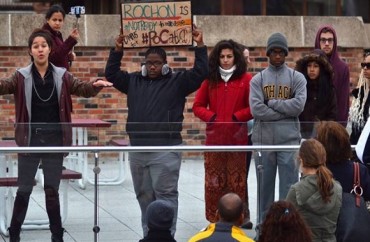 Ithaca College administrators this week rolled out a massive diversity plan that includes mandatory sensitivity training, creating a "safe space" for multicultural students, and efforts to hire more minorities in the wake of protests by the "People of Color at Ithaca College" student activism group.
The group, POC at IC, claims their campus is culturally biased, steeped in racism and employs racist police officers – accusations based largely on four recent incidents.
The first stems from an RA-training sessions in mid-August by campus officers who said things that offended some students. One officer reportedly dismissed an RA's concerns about racial profiling, saying it does not happen at Ithaca College, and another officer explained, at a different seminar while showing students a black BB gun, "If I saw someone with this I would shoot them," according to the Ithacan campus newspaper.
"The comments made by the two officers during the sessions caused two RAs of color to walk out in anger and frustration," the newspaper reported. "Multiple RAs who are also students of color said they are afraid to call Public Safety, even though it's often part of their job. … An estimated 30 RAs [subsequently] staged a silent protest."
The second incident is an off-campus party by a frat unaffiliated with the school earlier this month that offered a "Preps and Crooks" theme and included "30 gallons of jungle juice." According to Urban Dictionary, the alcoholic concoction "sends the drinker into a state animal behavior." Meanwhile, the party invite asked those who chose to dress as crooks to channel their "90's thuggish style … bandana, baggy sweats and a t-shirt, snapback, and any 'bling' you can find," the Ithacan campus newspaper reports.
In a third contentious incident, a guest panelist and wealthy alumni of the college who spoke at the campus' "reimagining" event on Oct. 20 twice called a fellow African-American panelist "the savage" after she first referred to herself as having a "savage hunger" to make her professional career soar. She said she was uncomfortable with that, and there was tension in the room, according to reports.
Faculty also took issue with the event.
"We are disheartened and disappointed by the fact that our academic leaders did not intervene and object to this demeaning and highly inappropriate phrase. We also question the choice of putting a white, entrepreneurial billionaire who bragged about his ownership of a resort on an island in Indonesia, which he described as backward and primitive, at the center of a conversation about the future of an Ithaca College education," states an open letter penned by dozens of Ithaca scholars in mid-October.
Finally, "People of Color at Ithaca College" have complained that most of the school's administrators are white, and those tapped to address racism concerns are also white, which they claim is proof of institutional racism, the Ithacan reports.
Together, these items serve as the catalyst for charges of racism against the private institution, which was founded in 1892, has about 6,124 students, and charges $40,658 in tuition and fees for this school year, according to a summary by U.S. News & World Report.
Prior to the campus town hall meeting Tuesday night at which administrators rolled out their massive diversity plan meant to serve as an action plan to mitigate accusations of racism and cultural bias, the "People of Color" crashed an admissions event at the college on Oct. 24, telling tour groups of prospective students and their parents that the campus is steeped in racism.
"Some of the members told students the college was not a safe place for people of color," the Ithacan reported.
POC at IC also chanted slogans, as well as distributed copies of the school's newspaper to prospective students highlighting the main headline on the front
page of the paper: "Students protest racial climate, express no confidence in Rochon." Tom Rochon is the president of Ithaca College.
"This not an attempt to pressure people not to attend Ithaca College. All this is, is a way to educate and notify prospective students of what's going on, not only on campus but also in the country," the group stated on its Facebook page.
The POC at IC group and the AEPi fraternity did not respond to requests for comment by The College Fix.
Meanwhile, the college's administration is adamant that they support a diverse environment for their students.
"The Ithaca College community embraces free speech and student engagement around real-world problems. Our curriculum encourages investigation of identities, power, and justice, and the quest for a sustainable future," a campus spokesperson stated in an email to The College Fix.
The administration has also cited its action plan as proof that it is working to address concerns.
Among the diversity initiatives rolled out at Tuesday's town hall meeting, reports the Ithacan, are: new faculty orientation on inclusion and multicultural competence in the classroom; development of a faculty plan of action focused on inclusion and cross-cultural effectiveness; cross-cultural awareness training for campus volunteers, administrators and student employees; creation of "an office to serve as the physical and emotional support 'safe space'" for multicultural students; and body cameras for campus police will be added, as well as a new program to mend the relationship between officers and students of color, among many other endeavors.
Some diversity measures were already put in place in September, prior to the protests and events of October. Among those, Ithaca College administration in September created a new council to address diversity and inclusion on campus.
Yet the attempts to appease the concerns do not appear to have worked. At the Tuesday event, "People of Color at Ithaca College" crashed the stage and gave administrators a verbal lashing, the Ithacan reports.
Moreover, the Ithaca College Student Government Association unanimously voted this week to call for a vote of no confidence in Rochon.
Like The College Fix on Facebook / Follow us on Twitter
IMAGE: Facebook screenshot