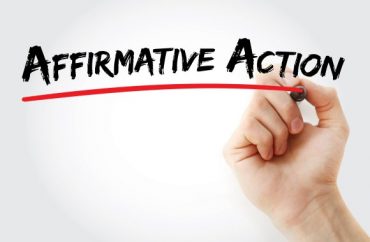 Harvard and Yale both intend to keep utilizing race as a factor in their admissions in spite of the recent Trump administration rescission of Obama-era affirmative action guidelines.
This past week Secretary of Education Betsy DeVos* noted that the US Supreme Court has already ruled on the legality of affirmative action, thus making the Obama guidelines "unnecessary."
In Harvard's case, Trump's decision comes amid a lawsuit that the school illegally discriminated against Asian-American applicants.
Nevertheless, Harvard spokeswoman Melodie L. Jackson told The Harvard Crimson that the university "will continue to vigorously defend its right, and that of all colleges and universities, to consider race as one factor among many in college admissions, which has been upheld by the Supreme Court for more than 40 years."
Jackson added that the university's policies have been "upheld by the Supreme Court for more than 40 years," beginning with the Bakke decision.
Over at Yale, university spokesman Tom Conroy echoed Jackson, noting the school's admissions practices are in"compliance with the Supreme Court's interpretation of the law."
"Yale seeks to create a vibrant and varied academic community where our students interact with people of different backgrounds and points of view," Conroy told the Yale Daily News. "Our admissions policies and practices reflect and support this goal."
But if, like the Obama recommendations regarding both affirmative action and sexual misconduct, Trump's reversal is merely a set of guidelines, what harm can come from colleges refusing to follow them?
According to the Daily News,
[t]hough the Trump administration's decision to rescind those recommendations does not change the law, Yale's choice to stand by its current policies could mean the loss of federal funding from the Department of Education or an investigation or lawsuit from the Department of Justice. After the Obama administration issued its 2011 Dear Colleague Letter urging schools to adopt a lower standard of proof for cases of sexual misconduct, the Justice Department began investigating whether schools were complying, even though that letter, like Tuesday's shift in policy by the Trump administration, did not alter the law. The federal government penalized schools that did not adopt the new policies.
Ironically, one of the most recent challenges to affirmative action, Fisher v. University of Texas, was denied by a 4-3 Supreme Court ruling (Antonin Scalia had died before the decision while Elena Kagan had recused herself) — the majority opinion authored by none other than Anthony Kennedy.
Justice Kennedy announced his retirement from the high court on June 27 and becomes effective July 31.
Read the full Crimson and Daily News stories.
MORE: Affirmative action punishes minorities, too. I'm one of them
MORE: Trump fighting affirmative action 'reinforces white supremacy'
IMAGE: Shutterstock.com
Like The College Fix on Facebook / Follow us on Twitter