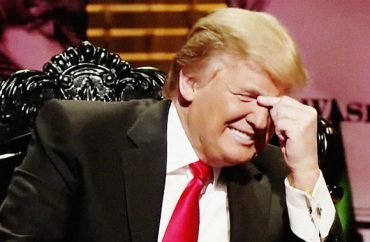 The University of Pennsylvania's political science department and its honor society played host to a panel discussion last evening titled "Joining the Resistance: Perspectives from Business, Politics, and Religion."
The trio which made up the panel said they all oppose Donald Trump due to his "history of racial discrimination and threats to curtail press freedom," according to The Daily Pennsylvanian.
The Democratic Socialists of America's Dustin Guastella (currently a sociology graduate student at Rutgers) emphasized economic warfare against the administration, and said that protests need to avoid "fundamentally non-political" proclamations like "Love Trumps Hate."
Wharton School Professor Eric Orts, who specializes in legal studies and business ethics, agreed with Guastella on the economic point, adding that business leaders "have a responsibility" to be political which means "giving their workers days off to protest or protesting themselves."
Orts also discussed the influence of consumers, citing the example of the #DeleteUber movement following accusations that the ride-sharing company had tried to profit from Trump's immigration ban by offering rides during a Taxi strike at John F. Kennedy International Airport in New York City.

"There's a lot more power in the areas of consumers and employees … to get these issues on the agenda," he said.

[Minister of the First Unitarian Church of Philadelphia Abbey] Tennis added that it is also important to note the long-lasting relationship between religion and political opposition.

"The civil rights movement was built largely in churches, by ministers," she said.

In recent years, religion has been associated with conservatism, but progressive churches — like her own — also exist, she said. She added that she would be surprised to find a single Trump supporter in her congregation.

Tennis said she hopes her church can serve as a place for activists to re-energize themselves from the often challenging and draining fight for justice, noting that there was a significant increase in congregants attending services after Trump's election.
It should be little surprise that Tennis would have difficulty discovering a GOP supporter in her flock; after all, the City of Brotherly Love is (in)famous for not recording a single 2012 GOP presidential vote in 59 voting districts.
MORE: 'Women are being erased' by Trump administration: UPenn professor
MORE: Penn anti-fossil fuel group upset at administration's indifference to its 'sacrifices'
Like The College Fix on Facebook / Follow us on Twitter
IMAGE: YouTube