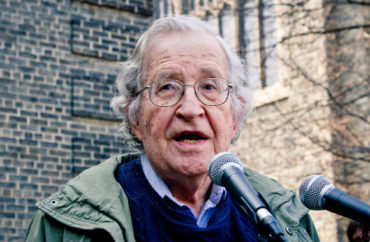 Jeffrey Epstein transferred $270,000 between accounts as a financial favor for Noam Chomsky, one of the most well-known far-left professors in the nation, as the two were reportedly friends and continued to meet up even after the disgraced billionaire registered as a sex offender, The Wall Street Journal reported Wednesday.
"Chomsky, a political activist and professor, told the Journal that they met occasionally to discuss political and academic topics," the newspaper reported. "…Chomsky confirmed that he received a March 2018 transfer of roughly $270,000 from an Epstein-linked account. He said it was 'restricted to rearrangement of my own funds, and did not involve one penny from Epstein.'"
The scholar, known as a virulent critic of America's capitalist, free-market enterprise system, had asked Epstein for help with a "technical matter" involving the disbursement of common funds related to his first marriage, the Journal reported.
Chomsky's response to the Journal when a reporter first asked about the collaboration and friendship was "it is none of your business. Or anyone's. Second is that I knew him and we met occasionally."
Chomsky, a longtime professor at the Massachusetts Institute of Technology, has made a name for himself by telling others how to live. Most recently, in 2021, he told a Stanford University audience that failure to wear a mask in public was analogous to going on a shooting rampage. For decades, the scholar has been a leading critic of American policies while also praising murderous communist and socialist regimes.
Wednesday's article follows up on a previous April 30 investigative report from The Wall Street Journal detailing connections between Epstein and powerful, well-known figures, including Chomsky:
In March 2015, Epstein scheduled a gathering with Mr. Chomsky and Harvard University professor Martin Nowak and other academics, according to the documents. Mr. Chomsky said they had several meetings at Mr. Nowak's research institute to discuss neuroscience and other topics.

Two months later, Epstein planned to fly with Mr. Chomsky and his wife to have dinner with them and movie director Woody Allen and his wife, Soon-Yi Previn, the documents show.

"If there was a flight, which I doubt, it would have been from Boston to New York, 30 minutes," Mr. Chomsky said. "I'm unaware of the principle that requires that I inform you about an evening spent with a great artist."

Epstein donated at least $850,000 to MIT between 2002 and 2017, and more than $9.1 million to Harvard from 1998 to 2008, the schools have said. In 2021, Harvard said it was sanctioning Mr. Nowak for violating university policies in his dealings with Epstein, and was shutting a research center he ran that Epstein had funded. MIT said it was inappropriate to accept Epstein's gifts, and that it later donated $850,000 to nonprofits supporting survivors of sexual abuse.

In a 2020 interview with the "dunc tank" podcast, Mr. Chomsky said that people he considered worse than Epstein had donated to MIT. He didn't mention any of his meetings with Epstein.
The Journal also reported Wednesday that Epstein paid $150,000 to Leon Botstein, president of Bard College. Botstein told the newspaper he received it from an account linked to Epstein in 2016 and gave it to the college. "A spokesman for Botstein said the funds were compensation for serving a one-year term on an advisory board for Gratitude America," the Journal reported.
Chomsky and Botstein "were among the many academics, politicians and businesspeople who met with Epstein in the years after he pleaded guilty in 2008 to soliciting and procuring a minor for prostitution. He was charged in 2019 with sex trafficking and died in jail while awaiting trial later that year," the Journal reported.
MORE: Chomsky's latest screed to impressionable college students
IMAGE: Andrew Rusk / Flikr
Like The College Fix on Facebook / Follow us on Twitter