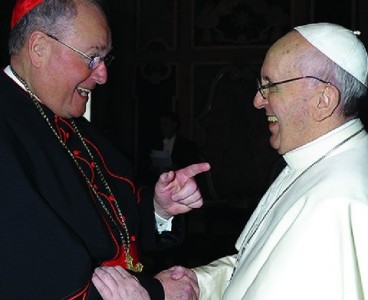 Le Moyne College president calls the student activism a 'great call for celebration'
It seemed a perfect choice: A Catholic university inviting one of the church's top leaders – the archbishop of New York – someone who even voted in the last papal conclave, as its commencement speaker.
But some at Le Moyne College see it differently.
Students at the Jesuit college, located in Syracuse, N.Y., are calling for Cardinal Timothy Dolan – leader of the Roman Catholic Archdiocese of New York – to be disinvited as the college's commencement speaker.
A petition posted two weeks ago on Change.org titled "Change Le Moyne's Commencement speaker 2015" implored the college's administration to disinvite Dolan, stating "the graduating class of 2015 and the graduates, along with staff and other students, do not approve" of Dolan.
As of Sunday night, the petition had 613 signatures. That's at a college with only 2,800 undergrads and 800 grad students.
The petition alleges Dolan is unfit to speak at the college because of his role in the Catholic Church's child abuse scandal and for his views on homosexuality.
"Over the years, Cardinal Dolan has been involved with sexual abuse scandals dealing with clergy of the church, homophobic comments and does not represent the ideals we have come to know Le Moyne to represent," the petition states.
Missing from the petition are examples of wrongdoing regarding the child abuse scandal or homophobic comments from Dolan.
It does link to a 2013 article from the Milwaukee Journal Sentinel, which details child abuse activists' calls for more open records from the Archdiocese of Milwaukee, where Dolan was previously archbishop. Yet, the article does not implicate or link Dolan to any wrongdoing.
Despite the lack of evidence, the petition declares that Dolan's presence at Le Moyne's commencement "completely opposes what we have advocated against."
"With the growing attention toward sexual assault on the Le Moyne campus, students have felt that keeping Cardinal Dolan as commencement speaker completely opposes what we have advocated against," the petition reads.
The petition alleges that opposing Dolan's address is equivalent to Le Moyne students' past #BlackLivesMatter protests and their vigil for the three Muslim students shot killed in North Carolina in February.
"We have walked the halls of Le Moyne for the Black Lives that Matter, we have held vigils for the Muslim students gunned down in Chapel Hill and much more," the petition declares. "We have always come together in hard times. Do not stop now."
Dolan's address is slated for May 17, and the college is sticking with Dolan for now. It also praised students' activism.
"Even as we espouse and uphold the values of the Catholic Church, we also encourage students to be agents of social justice in our society," campus officials told The College Fix in a prepared statement.
"We are proud that our students are doing so with integrity and in a thoughtful manner, and welcome Cardinal Dolan as a representative of the Church, and as an influential voice in the conversation," the statement continued.
Le Moyne President Linda LeMura even praised the petition.
"They're indicating concern for members of society that are historically marginalized," she told CNY Central. "In reality I see it as a great call for celebration."
Students are planning a silent protest during Dolan's address, Time Warner Cable News reported. Though, it's unclear exactly what that will entail.
Senior Kate Bakhuizen, opposed to Dolan's address, said she and other "people may not be actively listening" to what Dolan says.
A Le Moyne spokesperson told The Fix the university will tolerate protests as long as they're done "respectfully and in such a way that won't be disruptive to the ceremony."
Dolan has been the archbishop of New York since 2009. He was elevated to the College of Cardinals in 2012, which allowed him to participate in the 2013 papal conclave.
He gave the 2013 commencement address at the University of Notre Dame, and faced no opposition prior to that address.
College Fix reporter Nathan Rubbelke is a student at Saint Louis University.
Like The College Fix on Facebook / Follow us on Twitter
IMAGE: Via CardinalDolan.org
Like The College Fix on Facebook / Follow us on Twitter