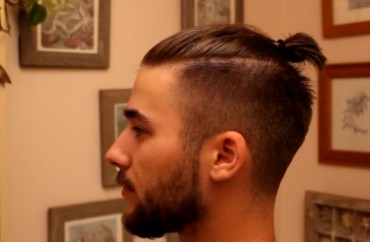 Grooming rules in the Church of Jesus Christ of Latter-Day Saints are tough on Mormon kids who want to show the slightest edginess, or even adulthood.
Some male students at Brigham Young University go to painful lengths to get permission to grow beards, as I wrote (twice!) last year, and now the school's campus in Idaho is cracking down on "man buns."
Here are some Instagram accounts specializing in man buns, if you've never seen one.
Scroll, the BYU-Idaho student newspaper, traced the crackdown to a scandal (?) the previous school year:
Anita McPherson, a testing assistant at the BYU-Idaho Testing Center, said that last semester, both male and female students who came into the testing center wearing this particular hairstyle were allowed to take their test, but were reported to the Student Honor Office.
Why the bun ban? Because it's an "extreme hairstyle" that "deviates from the norm," Tyler Barton, student honor administrator, told Scroll.
He's not just inventing prohibitions – extreme hairstyles are mentioned in the honor code, though man buns are apparently too new to get a specific prohibition:
By living the dress and grooming standards consistent with the teachings of Jesus Christ we show modesty, obedience, self-respect and create a wholesome and professional environment.
If you see something, say something:
"All employees and students at BYU-Idaho are obligated under the Honor Code to 'encourage others in their commitment to comply with the Honor Code,'" [Student Services & Activities Vice] President [Kevin] Miyasaki said. "It is not the Testing Center or the Student Honor Office's responsibility alone to help students, but we all have a shared responsibility."
Mustaches are still OK as long as they don't "extend beyond or below the corners of the mouth."
h/t Huffington Post
IMAGE: TheGentlemansCove YouTube screenshot
Like The College Fix on Facebook / Follow us on Twitter