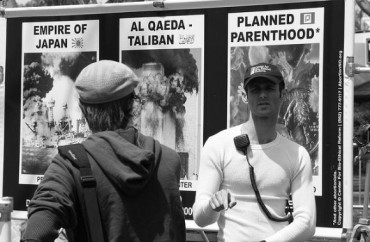 When a student hung a Palestinian flag from his window at George Washington University last month, he was quickly reported to the campus police.
It's a safe bet the complaint was not driven primarily by GW's no-objects-hanging-from-windows policy, which is widely ignored by students (if they know at all) and which GW doesn't enforce unless it receives complaints.
Someone was offended by the Palestinian flag. Maybe that person considered it an emblem of violence, like a swastika or Confederate flag (newly banned at Kutztown University). Maybe that person was Jewish and felt personally targeted by it.
RELATED: George Washington University orders Palestinian flag removed from student's room
It's all speculation at this point. We don't need to speculate, however, who is trying to silence pro-lifers at the University of Missouri. It's Jewish students, and it's inexcusable.
'An act of anti-Semitism' and 'beyond free speech'
Campus Reform reports that an odd coalition of Jewish and pro-choice students is encouraging students to file "bias incident reports" – claiming Title IX violations – in response to a pro-life demonstration by the Genocide Awareness Project and Life Education and Resource Network last week.
The three-day display made the case that the Black Lives Matter movement should include black babies who are aborted, estimating that 18 million "had been killed" and comparing their deaths to the Holocaust.
RELATED: Student threatened for hanging Palestinian flag gets the apology he demanded from GW president
The Columbia Daily Tribune reports the display included "graphic images of genocide victims and aborted fetuses." Here's one pic from the Mizzou demonstration – you can see many others from previous demonstrations across the country on Twitter.
The Genocide Awareness Project displays images of aborted fetuses between Ellis & Student Center @CoMissourian pic.twitter.com/L7zAvV4zTZ

— Julia Quade (@JuliaMQuade) December 7, 2015
It's hard to tell from published photos to what extent the display included Holocaust-related images.
Nevertheless, the Jewish Student Organization at Mizzou not only criticized the display in a letter to the community, but said it wasn't protected speech.
RELATED: Public university bans Confederate flag in dorm rooms, 'distasteful' decor in common areas
"This use of the Holocaust is an act of Anti-Semitism and the Jewish Student Organization condemns the fear tactics and offensive imagery" in the display, calling them "triggering to students." The letter said the "messages" used by the demonstrators "go beyond freedom of speech," without explaining how.
"As students we have a duty to report the injustices within our community as well as care for ourselves," the letter continues. Claiming that many students have to pass this particular corner with the display as they cross campus, it said "no students should be forced to view such volatile and triggering propaganda." It asked students to file Title IX reports explaining how the display "negatively effects [sic] the learning environment for all students."
There are many groups hurt by the demonstration in Kuhlman Court at #Mizzou. @MizzouLBC @MU_FSU @mizzoudiversity pic.twitter.com/43B9HzPniw

— Mizzou JSO (@JSOmizzou) December 8, 2015
No one disputes these are troubling images. The Mizzou chapter of Students for Life, which had previously hosted the Genocide Awareness Project, tried to talk the demonstrators out of coming to campus and publicly disavowed them.
RELATED: UNC's Mike Adams is back, trolling abortion activists who suppress speech
But claiming something is "triggering" gives the Jewish Student Organization, pro-choice activists or even Students for Life not the least shred of a right to stop someone else from speaking, even using graphic images, using Mizzou's bias protocol to punish their speech.
Vietnam protests included graphic images. Black Lives Matter protests included graphic images – Michael Brown's body lying on the ground (albeit blurred) made the front page. Images convey what words by their very nature can't.
The point of graphic images is precisely to trigger action by the viewer, as this African-American clergyman is trying to do:
Pastor Clenard Childress Jr. with the New Calvary Baptist Church in Montclair, N.J., led the effort to bring the display to campus. He said information about abortion is not reaching a group that historically has the most abortions: black women.

"If all black lives matter, then we should consider all black life," Childress said. "That includes the children being discriminated against in the womb."
RELATED: Secular Student Group Wants To Shut Down 'Gross' Pro-Life Protest
Jewish and pro-choice groups are free to criticize this demonstration for any and all reasons. They can tell others to shame Pastor Childress and claim his perspective as a black man is invalid or not representative of his community.
And I'm going to use my freedom of speech to remind that Mizzou that as a public university, it must totally and completely ignore their demands to punish people for using the power of imagery to speak for causes they hold dear.
RELATED: Defenders of Prof Who Attacked Pro-Life Protester: Excuse Her Because 'Slavery'
Like The College Fix on Facebook / Follow us on Twitter
IMAGE: Alejandro Cortes/Flickr