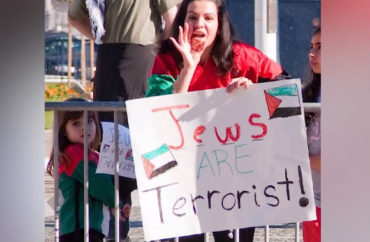 UPDATED
No anti-Semitism because student group is 'political' and doesn't represent 'all Jews'
A legal fight over a public university's alleged facilitation of harassment against Jewish students has sparked a related battle: whether harassment of a Jewish group is inherently anti-Semitic or may be simply anti-Israel.
Open Hillel, a progressive Jewish group that represents students at San Francisco State University, filed a friend-of-the-court brief arguing against the Jewish students who are suing the university.
The group argues that alleged discrimination or harassment against Jewish organizations such as Hillel does not necessarily stem from "anti-Jewish bias," and therefore is not a civil-rights violation.
The plaintiffs have bigger things to worry about at the moment than Open Hillel's arguments.
In a hearing last week to consider the university's motion to dismiss, the judge overseeing the case questioned whether the lawsuit properly alleged specific intent to discriminate by religion, one of the plaintiffs' lawyers told The College Fix in an email.
Tribune News Service reported that U.S. District Judge William Orrick, who previously dismissed an earlier version of the suit, said he was inclined to dismiss the amended complaint but would give the plaintiffs a chance to amend it again.
"I am confident in our team and our claims" even after the hearing, Amanda Berman, a lawyer with the Lawfare Project, wrote in an email to The Fix.
The nonprofit, which works to protect the rights of Jewish and pro-Israel communities, believes Orrick "will see the importance of moving this case forward to protect the civil and constitutional rights of every student, no matter their identity, and to protect the fundamental freedoms enshrined in the First and Fourteenth Amendments," Berman said.
MORE: Lawsuit says SFSU facilitates harassment of Jewish students
"We are here today to protect victims of #discrimination whose complaints to #SFSU and CSU have fallen on deaf ears for years," – Amanda Berman, an attorneyhttps://t.co/8Ty0MU2rAJ

— The Lawfare Project (@LawfareProject) August 9, 2018
Punish the university because others disagree with you?
Five Jewish students and two non-students filed a federal lawsuit against SFSU a year ago alleging viewpoint discrimination. They claimed the administration had "knowingly fostered" a hostile environment against Jewish students going back five decades.
The suit cited incidents such as the university's order to campus police to stand down as anti-Israel protesters "physically threatened" Jewish students who came to a talk by Jerusalem Mayor Nir Barkat, who was also shouted down.
The plaintiffs also claimed SFSU has "repeatedly denied" Hillel and the Jewish fraternity Alpha Epsilon Pi equal access to campus events with non-Jewish organizations.
According to Open Hillel and pro-Palestine groups, the harassment of pro-Israel Jewish students by other student organizations is not necessarily an example of anti-Semitism.
Though it's prohibited under federal law for students to be harassed because of their racial, ethnic or religious identity, the same act of harassment motivated by political animus is not covered. Some Jewish students consider this a double standard that leaves them unprotected.
The Jewish student plaintiffs "are trying to hold SFSU responsible for actions by other students on the campus with whom they disagree," Dan Siegel, a lawyer representing Open Hillel, told The Fix in a phone call. The lawsuit is a mistake, and "I hope that the judge will dismiss it."
Hillel has complained about the actions of campus entities including the College of Ethnic Studies, Arab and Muslim Ethnicities and Diasporas Initiative and the General Union of Palestine Students. It has been excluded from campus events such as the "Know Your Rights" fair, an event meant to support marginalized student groups.
Student organizer Saliem Shehadeh told pro-Palestine defense organization Palestine Legal that Hillel was not invited to table at the fair because of its "demonstrated record of suppression of student rights including advocacy for justice in Palestine."
MORE: SFSU lets anti-Israel activists shout down Jerusalem mayor
Young Jews wrestle with the State of Israel "out of a deep love for our Jewish faith and a desire for our Judaism to be a force for good in the world" writes @liana_thomason, of @OpenHillelNow. Read more: https://t.co/ikDcwli1jY pic.twitter.com/UlsPGSV3UE

— New Voices Magazine (@New_Voices_Mag) August 1, 2018
'Hillel frequently acts as a political organization,' not an 'umbrella' for Jews
Hillel faced discrimination for its pro-Israel political stance rather than its members' identity as Jews, according to Open Hillel, a group created to counter Hillel International's pro-Israel stance.
"This brief explains why Hillel does not represent 'all Jewish students' and why actions against Hillel are not necessarily aimed at Jewish students for their religious or ethnic identity," the group wrote in its friend-of-the-court brief in favor of SFSU. (Open Hillel doesn't have a chapter structure; it asked and received consent from SFSU students to represent them in its brief, the group later told The Fix.)
"Hillel frequently acts as a political organization and not as an umbrella organization for all Jewish students," it said. "Hillel functions as a political advocacy organization to promote a certain ideological view on Israel."
Eva Ackerman, Open Hillel's national organizer, told The Fix in an email that Hillel is not representative of all Jews on campus because since enacting its Standards of Partnership, Hillel has "consistently excluded Jewish students on the basis of their political views."
Open Hillel filed its brief to "point out that Hillel only represents part of the Jewish community" and that "a lot of Jews in the US are critical of the state of Israel," its lawyer Siegel told The Fix. "We wanted to make sure that the judge understood that … just because someone is taking an action against Hillel doesn't mean that it is an anti-Semitic action."
MORE: Silencing, marginalization of Jewish students is rising
The Jewish students' lawyers at the Lawfare Project believe that the "problems" identified by Judge Orrick last week "were not problems" under the 9th U.S. Circuit Court of Appeals precedent it's citing, Berman told The Fix.
Rather than specific intent, "we were arguing that the defendants should be held liable for viewpoint discrimination under the First and Fourteenth Amendments, for ratifying unconstitutional behavior and for supervising unconstitutional behavior, and that knowledge (not specific intent) is the only requirement," she wrote in an email.
The project is also preparing for a March trial in a separate state-level lawsuit it filed on behalf of two of the same SFSU plaintiffs, Berman said.
The university declined to comment on the case to The Fix, citing the pending decision from Judge Orrick.
Hillel doesn't represent "all Jewish students" so it can't be the victim of anti-Semitism, critic tells cou… by The College Fix on Scribd
At SFSU, Jews must 'expressly state they are anti-Israel' or face exclusion
"It is deeply offensive for those who believe that a connection to Israel is part of their Jewish identity, whether it be religious or ethnic, to be told that their beliefs are merely political and not religious," the director of an organization that tracks campus anti-Semitism told The Fix.
"The vast majority of Jews see their affiliation with and their love for Israel as a religious belief, especially those Jewish students who are a part of Hillel," Tammi Rossman-Benjamin of the AMCHA Initiative said in a phone interview. Open Hillel wants to enforce a standard that a Jewish person must follow "absolute" Jewish practices in order to suffer religious discrimination, she said.
AMCHA recently released a report that said Israel-related anti-Semitic incidents are "considerably more likely to contribute to a hostile environment for Jewish students" than so-called "classic" anti-Semitism. It claimed that anti-Israel campus activities are increasingly intent on harming pro-Israel students, not Israel itself.
Gilad Skolnick, executive director of the Northeastern University Hillel, agreed that one's Jewish identity cannot necessarily be separated from one's religious beliefs.
"The majority of Jewish students support the existence of the state of Israel for various reasons," he told The Fix in an email. This ranges from Israel's role as the home of about half of worldwide Jews, to "the deep historic, cultural, and religious ties between the Jewish people and the land and state of Israel. One can support the existence of Israel without it being political."
MORE: Suppression of Jewish student speech nearly doubles in a year
Still feeling the FOMO of not being on our August NEU Birthright?! Don't worry- Winter will b just as LIT! 🎉🎊
Pre-registration is open right now! https://t.co/WoCgyUkpx3 (first 25 get a $100 giftcard)#northeastern #huskiesintheholyland #birthrightisrael #Israel @IsraelOutdoors pic.twitter.com/nze4YJrxMd

— Northeastern Hillel (@NU_Hillel) August 15, 2018
Harassment for politically incorrect opinions seems to be the status quo at SFSU, according to current SF Hillel director Ollie Benn.
Though it's not a party to the lawsuit, SF Hillel has "expressed serious concerns repeatedly to the administration about the campus climate at SF State," Benn told The Fix in an email. Jewish students have to "expressly state they are anti-Israel" if they don't want to be excluded from "full participation in campus life."
Because so much harassment on campus is done out of anti-Israel bias, which is not covered under Title VI of the Civil Rights Act, many Jewish students are harassed with no consequences, Rossman-Benjamin said: "If you only look through the lense of Title VI, you can't protect all of your students."
When anti-Israel activists sound like conservatives … 
Though Open Hillel's brief was filed in May, it was the subject of a recent article in Tablet that claimed the group's arguments "would justify widespread discrimination against minorities."
David Schraub, a law lecturer at the University of California-Berkeley and self-professed critic of Hillel's current organization, argued that Open Hillel "seems indifferent to how excluding Hillel from university activities would impact the many Jews for whom Hillel occupies a central role in campus Jewish life."
He said Open Hillel's legal argument would also apply to any other "affinity organization" that doesn't enjoy the support of the "entire" affinity community, which is all of them, from African-American groups to Islamic groups.
MORE: SFSU department slams president for inviting 'Zionists'
The best way @HillelIntl could avoid a Ken Marcus-type fiasco is to let Hillel students be the ones to elect Hillel's leaders. Only a leadership accountable to students will reflect student priorities. #DemocraticHillel @AmUnionJS @OpenHillelNow https://t.co/oEE4qW0i1f

— David Schraub (@schraubd) February 12, 2018
"Hillel's views on Israel are obviously political, in a sense, but it presumably believes they are also part of its Jewish identity (whether thought of as religious, national, cultural, or otherwise)," Schraub told The Fix in an email. "These are difficult to disentangle."
The hostility to Hillel at SFSU is unusual among university campuses, and in other places where it has faced hostility, "Hillel usually has enjoyed the support from a broad spectrum of other religious groups on campus — Jewish, Christian, and Muslim," he said, citing the State University of New York-Stony Brook as one example.
Open Hillel is actually making an argument that empowers its other political opponents, Schraub told The Fix:
Many conservatives have argued that, for a discrimination claim to succeed, the claimant must either demonstrate that (a) the entirety of the targeted group was deliberately excluded and/or (b) there is unquestionable evidence that the adverse action was taken due to nothing more than hatred of the group-qua-group.
Under Open Hillel's reasoning, a college could shut down its "main campus women's group" and claim it wasn't sexist because some women are pro-life, in contrast to the group's pro-choice stance, he said.
CLARIFICATION: Open Hillel doesn't have university chapters. It obtained consent from SFSU students to represent them in its brief. The article has been amended.
MORE: SFSU prez previously praised students who shouted down Jerusalem mayor
IMAGE: Jerusalem U/Youtube
Like The College Fix on Facebook / Follow us on Twitter