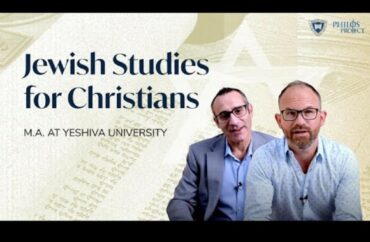 'I meet many Christians interested in the Jewish context of their faith and asking to go deeper,' program leader said
A private Orthodox Jewish university is launching a new program this fall to strengthen Christians' connections to their roots.
Yeshiva University, a modern Orthodox Jewish institution with four campuses in New York City, "launched a partnership with the Philos Project, a nonprofit organization that promotes positive Christian engagement with Judaism, to develop a special program for Christian students within YU's existing Master's in Jewish Studies," according to a recent YU university news release.
The new master's degree, "Hebraic Studies for Christians," comprises four semesters and will include immersive courses on Hebrew, the Bible, Jewish history, literature and Jewish-Christian relations, according to the Philos Project website.
The project's mission is "to promote positive Christian engagement in the Near East by creating leaders, building community, and taking action in the spirit of the Hebraic Tradition," its website states.
"What we do at the Philos Project is, to some degree, reacquaint Christians with their Jewish roots," project founder Robert Nicholson said in a video. "And along with that comes this encounter with the Jewish people."
Nicholson echoed these sentiments.
"I meet many Christians interested in the Jewish context of their faith and asking to go deeper," Nicholson stated in the news release. "This program is the perfect place to do just that."
"The program builds on improved Christian and Jewish relations in recent decades and a growing interest from Christians in understanding the Jewish roots of their religion and the Bible."
Daniel Rynhold, dean of the Bernard Revel Graduate School of Jewish Studies, told the Jerusalem Post that "Christian students will hopefully gain a deeper appreciation and understanding of the Hebraic roots of Christianity, which would be helpful to emerging religious and cultural leaders as well as encourage further understanding and cooperation between faiths."
The College Fix emailed the Bernard Revel Graduate School and the Philos Project to ask each group what inspired them to collaborate on a program for Christians, what students can expect to learn in this program and who will be on the faculty. It has not received a response.
The program "has attracted students from across the country with the hybrid model allowing students to participate in person at YU in New York City or virtually," according to the YU release.
"The pilot class launched in June 2023 and includes students from Mozambique, Texas, California, Virginia and Nebraska."
Applications for the 2023-24 academic year closed March 15.
MORE: Conservative magazine names Yeshiva University among the best colleges and universities in America
IMAGE: The Philos Project/YouTube
Like The College Fix on Facebook / Follow us on Twitter