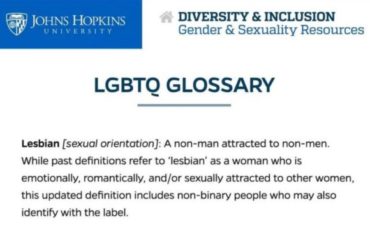 Johns Hopkins University removes glossary, disavows controversial definition
Following backlash, Johns Hopkins University has removed a page that defined "lesbian" as a "non-man attracted to non-men" in its new LBGTQ glossary.
"Upon becoming aware of the language in question, we have begun working to determine the origin and context of the glossary's definitions. We have removed the page from our website while we gather more information," Jill Rosen, director of media relations at the school, told The Messenger in an emailed statement.
As of Wednesday, the glossary page appears removed from the website and campus leaders distanced themselves from the controversial definition, leaving a short explanation on the scrubbed page that "the definitions were not reviewed or approved by ODI leadership and the language in question has been removed pending review."
Previously, under "lesbian," the school stated as a definition: "A non-man attracted to non-men."
"While past definitions refer to 'lesbian' as a woman who is emotionally, romantically, and/or sexually attracted to other women, this updated definition includes non-binary people who may also identify with the label," the definition continued.
A gay man, however, was still defined as "a man who is . . . attracted to other men, or who identifies as a member of the gay community," National Review reported yesterday.
"Once again, it's women who are undermined by LGBTQ ideology," Madeleine Kearns wrote for National Review.
"Do you know what else is a 'non-man'?" she wrote. "The chair I'm sitting on, the coffee I'm drinking, and the sky above my head."
Kearns was among many who critiqued the definition, which caused a firestorm of controversy on Twitter on Monday. Author J.K. Rowling quote-tweeted the original glossary page yesterday with the commentary:
"Man: no definition needed. Non-man (formerly known as woman): a being definable only by reference to the male. An absence, a vacuum where there's no man-ness."
Man: no definition needed.
Non-man (formerly known as woman):
a being definable only by reference to the male. An absence, a vacuum where there's no man-ness. pic.twitter.com/cpSaSR2Vfg

— J.K. Rowling (@jk_rowling) June 13, 2023
Cultural critic Meghan Maureen also chimed in with a response on Twitter:
New inclusive names for women:
Non-man
Birthing person
Vagina owner
People who bleed
Menstruators
Uterus-havers
Vulva owners

New inclusive names for men:
Men
The Messenger reported that the Baltimore-based institution is "one of the leading medical research facilities in the U.S."
MORE: Adjunct who failed student for using term 'biological women' confirms story
IMAGE: JHU screenshot
Like The College Fix on Facebook / Follow us on Twitter