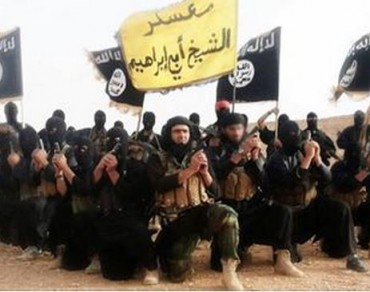 Three days before a shooting in which two gunmen were shot dead by police after they open fire at a Mohammed cartoon event in Texas, college students in Wisconsin were warned Islamic radicals are living in America.
Not only that, Jihad expert Robert Spencer – who was present Sunday at the event in Texas that was attacked – told University of Wisconsin Madison students in a guest appearance that ISIS and radical Islamic terrorists want to kill Americans.
He began his talk by asking students why it's important to care about ISIS, then bluntly answered his own question: "It matters because they want to kill you."
In his Thursday speech, Spencer said ISIS has issued orders to their members in America to murder people and "if you can't shoot them, then run them down with your car."
After the shooting Sunday night, Spencer tweeted: "The shooting outside our free speech event shows once again that moderate Muslims are unable or unwilling to rein in their violent brethren." 
Details about the two slain suspects, other than they are male, have yet to be released by authorities as of late Sunday night. It remained unclear several hours after the shooting whether it was related to event, but organizers have indicated their belief that it was.
And The Los Angeles Times reports the shooting was "preceded by messages from two social media accounts that expressed radical Islamic viewpoints."
"One tweet …used the hashtag #texasattack. The user wrote, 'May Allah accept us as mujahideen.'"
The event, a Mohammed Art Exhibit and Contest, had been criticized as a direct attack on Islam, but organizers said it was about the right to free speech.
As for Spencer, in his UW-Madison speech on Thursday, he had said he remembered a time when CIA counter-terrorism trainings included words like "Islam" and "Jihad." But today, he added, those words can't even be uttered in such trainings.
How does he know? Spencer used to lead some of them. But more recently he was shut down after CIA Chief John Brennan changed the policy on discussing Islam. Brennan has also publicly insisted that ISIS members are not "Islamic."
Today, CIA members are instructed to consider ISIS members just as terrorists, criminals or thugs – not religious zealots.
"They came in and said, 'You've got to get rid of Spencer and others talking about Islam,'" Spencer recalled. "You can't mention Islam or Jihad in counter-terror training."
He made the comments before a room of University of Wisconsin-Madison students, informing them of the political correctness that has taken hold of the Central Intelligence Agency – intellectual failures that he contends has led to the death of Americans.
Spencer, invited to speak on campus by the conservative campus group Young Americans for Freedom, told students he was extremely critical of this policy, and blamed it in part for radical Islam attacks in the United States, most notably the terror attack at Fort Hood by Major Nidal Malik Hasan and the Boston Marathon bombers.
He talked about how the government is afraid to confront very visible red flags like Hasan because they don't want to be branded racist, bigots or Islamaphobics. Spencer was equally critical on the government in regard to the intelligence community's failure to properly listen to warnings.
According to Spencer, the Boston bombings could have been stopped if "the FBI took the intel they got from the Russians seriously." He was also quick to point out that the failures to combat radical Islam is not a partisan issue.
"The Republicans are clueless and out to lunch on the issue," he said. "Democrats are clueless and out to lunch on the issue."
Spencer was brought in by Young Americans for Freedom because he's talking about important subjects students do not get anywhere else, organizers said.
"It's something really important that should be discussed," YAF co-chair Kelly Ward told The College Fix.
In the past, Spencer led seminars on Islam and jihad for the United States Central Command, United States Army Command, the U.S. Army's Asymmetric Warfare Group, the FBI, the Joint Terrorism Task Force and other agencies.
Spencer didn't mince words with the 30 or so students in the audience, a speech given with armed security, including local UW-Madison police, on hand.
Spencer also took a couple of direct shots at President Barack Obama and Secretary of State John Kerry for not properly identifying ISIS as Islamic and saying their murderous actions have nothing to do with Islam.
"They [ISIS] say they're the most Islamic thing around…Al-Qaeda, Hamas, and Boko Haram all seek to restore the caliphate. ISIS finally did it," he said.
The justification that ISIS uses for beheadings was also highlighted by Spencer, who cited the Quran chapter 47:4 where it tells Muslims to strike the necks of disbelievers. Some radical Muslims look at ISIS as a model of what believers of the Quran should do. Spencer elaborated on this mindset by saying: "They're doing what the Quran says. Finally somebody is doing what the Quran says."
Asked if he felt Muslim student organizations on American campuses have ties to radical Muslim groups, Spencer said "the MSA is an arm of the Muslim Brotherhood. There is a long list of MSA members from around America that have been involved in Jihad terrorism."
But Spencer wrapped up his speech with some good news, saying that America will win because "lovers of life will always prevail."
Spencer is director of Jihad Watch, a program of the David Horowitz Freedom Center. Although police were on the scene, Spencer's visit did not prompt any protests.
College Fix reporter David Hookstead is a student at the University of Wisconsin-Madison.
Like The College Fix on Facebook / Follow us on Twitter
Like The College Fix on Facebook / Follow us on Twitter