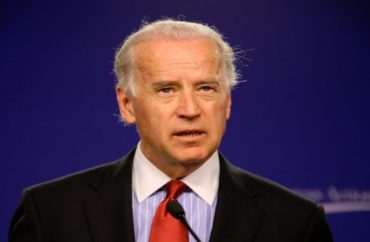 On Feb. 7 it was announced that former Vice President Joe Biden would join the University of Pennsylvania as a "Benjamin Franklin Presidential Practice Professor" … but almost a month later, no one seems to know just what this means.
According to a Feb. 28 Daily Pennsylvanian article headlined "No one is really sure what Joe Biden will be doing at Penn," staff and students alike "are still confused about the nature of [Biden's] role at the University."
Many students thought Biden would teach a few courses, but nope, according to Biden spokesperson Kate Bedingfield in a statement to the Daily. University spokesperson Stephen MacCarthy also told the paper: "details are still being ironed out."
Nevertheless, some Penn students' hearts are all a-flutter over the former veep's presence on campus:
"I think that we're all really excited by his decision," Penn Democrats Communications Director and Erin Farrell said. "It's a great opportunity to have hands-on experience working with him."
Farrell added that Penn Dems is collectively awaiting Biden's arrival. However, she is also still confused about what exactly his role will be.

"We know as little as everyone else on campus about what Biden will try to do here," she said. "If he ever wants to speak to us, we, of course, would be very grateful."

Members of the Penn in Washington program, which allows students to study in Washington, D.C. for a semester and helps them land a part-time internship in the city during that time, said they are also still trying to figure out what Biden's decision to join Penn as a professor means. …

MORE: Warn the Title IX office: Joe Biden named prof at UPenn

"I [think] that he will be based out of Washington working towards foreign policy education," [PIW Director Deirdre] Martinez said. …

Second-year Penn Law School student Jennifer Reich, who founded a student group in January dedicated to bringing Biden to Penn, said she was unsure about Biden's day-to-day responsibilities as a Penn professor. She noted, however, that being based out of Washington could provide Biden the opportunity to make an impact on the national level.
The DP reported last month that Biden would be operating out of D.C. Hopefully someone will figure out just what Biden will be doing … at least before that first paycheck rolls in.
MORE: It cost $30,000 to get Joe Biden to talk about sexual assault in Illinois
MORE: VP says gov't funding has increased cost of college
Like The College Fix on Facebook / Follow us on Twitter
IMAGE: Center for American Progress/Flickr