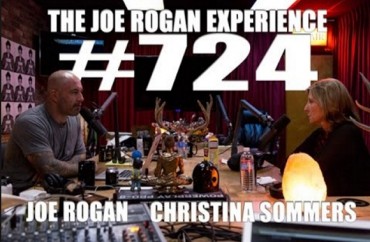 The latest installment of the "The Joe Rogan Experience" featured a nearly three-hour long interview with "Factual Feminist" Christina Hoff Sommers.
Sommers, whose "Factual Feminist" YouTube videos are wildly popular, is a former philosophy professor and prolific author known for her critiques of feminism, including Who Stole Feminism: How Women Have Betrayed Women and The War Against Boys: How Misguided Policies Are Harming Our Young Men.
Sommers often tackles the alleged gender wage gap and inflated campus sexual assault statistics, a factual feminist who had taken on fanatical feminists for decades.
During the interview, Sommers provided insight into her past experience as a philosophy professor who was asked to teach a course on feminism. She said when she began reading the textbooks for the course, she was shocked by what she described as "a series of mutually reinforcing readings [that taught] a conspiracy theory about the patriarchy, buttressed by inflated statistics."
The books were filled with what she called "advocacy statistics" or "hate statistics … designed to create…anger in women. And they happen not to be true, but they work very well as propaganda."
Perhaps even more surprising than the content of these textbooks is that Sommers had this experience in the 1980s, which reveals that this bias existed for roughly 30 years, even though many people are just beginning to learn of it.
Sommers recalled being taken aback by this far cry from the objective and unbiased nature of what college courses were supposed to be. She wrote a paper about her experience with these textbooks and presented it to the American Philosophical Association, where she expected criticism, but instead received far worse.
"[When] I gave this paper, women, mostly women in the audience, were hissing and booing," she told Rogan, "and I was excommunicated from a religion I didn't even know existed, The Church of Feminism!"
Rogan then asked what could possibly have been the focus of the paper to illicit such a response? Sommers responded: "Well I said that feminism should be about mutual respect, it should be about equality, not the demonization of men."
Rogan and Sommers also spoke about what happened at Yale recently, referring to campus outrage over an email about offensive Halloween costumes. Rogan spoke about the reactions people have during these protests, "Something about it just seems really fake."
"What the reaction represents is a green light to be an a*shole," he said.
Sommers also pointed out the absurdity of how deans and college presidents capitulate to outraged students on campuses, calling their behavior "craven."
Sommers said some college students are "infantile," but not only that, their behavior is "infused with bitter, divisive, hardline politics they learned in their classrooms." She related this to what she experienced with the patriarchy-pushing college textbooks she was appalled by in the 1980s.
Rogan also asked Sommers what she believed is the reason for the decline in objective thinking among students and young adults. Sommers pointed out that the majority of professors are reasonable, but the unreasonable minority of professors are the loudest.
Sommers said that, to some students, these professors are "charismatic" and that for years they have been teaching "paranoid views of the world, and inciting rage against men, gender profiling of men," and that these professors "have a following."
She explained that what has changed within this following is a sense of empowerment that was unintentionally bestowed upon them by the well-intentioned actions of the Department of Education whose officials were trying to fix sexual assault on campus at the time.
"They gave a cure that was worse than the disease," Sommers said, adding that the cure turned campuses into what some would call "feminist police states."
Sommers also spoke about some of the experiences she has had during speaking engagements at campuses around the nation, in particular at Brown University and Oberlin College.
Sommers said a "safe room" was made available to students at Brown University.
"[It] had video tapes of frolicking puppies, coloring books, bubbles, [and] stuffed animals," she said.
Rogan could not believe it, "No, for adults?" Sommers replied: "It's kindergarten for college girls."
Sommers described a scene at her Oberlin College event where some women in the front rows had attached red duct tape over their mouths. Others booed and hissed. And, of course, a safe room was provided there, too.
"People rushed out [of the event]," she told Rogan. "I triggered people, and they went to the safe room. I triggered about 30 people, and a dog, there was a therapy dog!"
She joked that she truly feels bad about the dog.
Even more, Sommers described how Oberlin College monitored social media posts around campus that were related to the event and felt the need to provide Sommers with two armed policewomen. Rogan joked about the choice to provide policewomen (as opposed to policemen), "Why did they go with policewomen?" Rogan laughed, "They had to be perfectly correct!" Sommers replied with a joke of her own, "If you get more correct than Oberlin College, I mean, you will vaporize!"
Rogan and Sommers also discussed the future of American universities if current campus trends continue.
Sommers said she believes that universities "might become obsolete" and that people will opt for online courses. Sommers pointed out that colleges like Yale and Amherst might "vaporize" because "they've weaponized the sensitivities of the most neurotic students on campus."
Sommers also pointed out that every generation has faced a challenge to liberty, including the McCarthy and Vietnam eras. In a message to millennials, she said: "This is your challenge, and I say start the resistance."
Sommers referenced the work that the Foundation for Individual Rights in Education does to protect liberty on campus and added, "I think liberal students and conservative students could unite on campus … just in favor of free expression."
The entire podcast, which also delves into the gender pay gap and gamer gate, can be seen here on YouTube in its entirety.
Like The College Fix on Facebook / Follow us on Twitter
IMAGE: YouTube screenshot