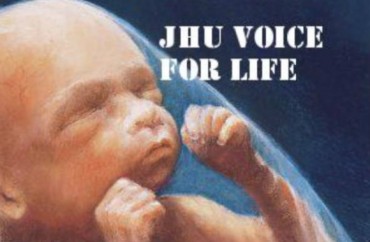 After a string of free-speech controversies related to abortion in recent years, Johns Hopkins University has adopted a statement on academic freedom that's being praised at least one higher-education group.
Not everyone is convinced "America's first research university," as Johns Hopkins calls itself, can live up to the statement's standards, though, given other school policies on "civility" and "offensive" language.
Johns Hopkins debuted the statement earlier this month, calling it the product of "many months" of work by a 14-member task force led by a professor emeritus and expert in constitutional law.
Its first draft was released to the community in April and went through further revisions in response to more than 100 comments, President Ronald Daniels and Provost Robert Lieberman said in an email to the community. Lieberman himself "visited faculty advisory boards" in each school, they said.
Language taken out that undermines students' academic freedom
"Academic freedom protects the right to speak and create, to question and dissent, to participate in debate on and off campus, and to invite others to do the same, all without fear of restraint or penalty," the statement reads.
An academic community's members should "open themselves to the views of others, even when those views are provocative of unfamiliar," the statement continues.
Much of the statement cautions that academic freedom is subject to limits. It does not "guarantee the right to defame or threaten, to deface or harass, or to incite violence or infringe on privacy," and the statement calls for a "respectful exchange of views."
But academic freedom must make room for views "that even the vast majority of the community may find misguided, ignorant, or offensive," and which should be challenged rather than censored, it reads.
RELATED: University of Chicago releases sweeping free-speech statement
The American Council of Trustees and Alumni praised the trustees of Johns Hopkins for approving the statement.
The council said it submitted comments in May proposing the removal of "language that appeared to undermine students' academic freedom" from the first draft, and the final statement omits that language.
The Johns Hopkins statement also falls in line with the council's letter to trustees nationwide earlier this summer, asking them to demand "the free exchange of ideas" on the campuses they oversee, as the University of Chicago and Purdue University have done.
A history of speech infringements
The Baltimore university has faced scrutiny in recent years for how it handles views that are controversial among its student body, led by the Foundation for Individual Rights in Education (FIRE).
Its student government denied recognition to a pro-life campus group in 2013 because it might make students feel "uncomfortable."
Even after it relented and recognized Voice for Life, following pressure from FIRE, the student government put it and other "advocacy" groups under a classification that sharply limited the funding they could get.
Voice for Life founder Andrew Guernsey talked to FIRE about the experience earlier this year, and how he now advises other groups to not let "your voice be squashed by a majority that is not tolerant of you."
Discomfort with abortion continued this spring. A student committee that's not part of the student government blocked an off-campus pro-life group from participating in the Spring Fair, as it's done for three decades, because its "anatomical models of fetal development" were judged "triggering and disturbing."
More bad headlines followed, and the student committee reversed itself so the group could participate, though it did not explicitly revoke its language about "disturbing" content.
'Inconsistent' with other policies on the books
Samantha Harris, director of policy research at FIRE, isn't doing cartwheels over the new academic freedom statement.
While the policy is "itself a very good thing," the university "simultaneously maintains policies that conflict" with the school's new academic-freedom commitments, Harris told The College Fix in an email.
For example, Johns Hopkins' "Principles for Ensuring Equity, Civility and Respect for All" – enacted in 2006 following a controversy over an "offensive" Facebook invitation – are "inconsistent with the principles of free speech," Harris said.
RELATED: Team Mitch: Purdue gets 'green light' rating for junking speech codes
By prohibiting any and all "rude, disrespectful behavior," those principles negate the new policy's statement that unfettered debate requires that even "ignorant" or "offensive" views be protected, she said.
Harris pointed to the university's "Use of IT Resources" policy as contrary to academic freedom as well, because it bans the sending of "offensive" emails.
"So does that mean that free and open debate is not welcome online?" she said.
The trustees group ACTA, university student government and Spring Fair organizing committee did not respond to Fix queries about the academic freedom statement and its potential impact on their activities going forward.
RELATED: Johns Hopkins backs down on banning 'triggering' fetus models by pro-lifers
RELATED: Pro-Choice Group Tries to Silence Pro-Life Students
RELATED: A Small Victory for Pro-Life Students
Like The College Fix on Facebook / Follow us on Twitter
IMAGE: JHU Voice for Life