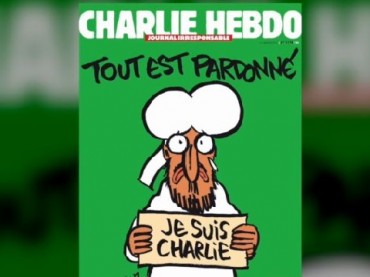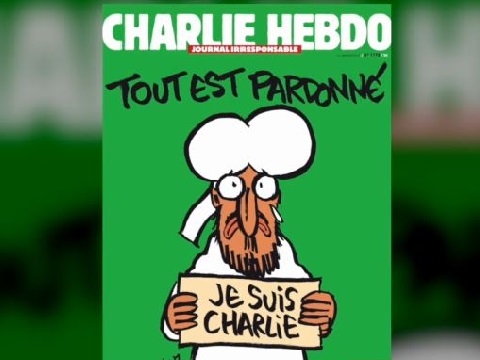 Free speech attorney says scholar is way off the mark
DeWayne Wickham, dean and distinguished professor of journalism at Morgan State University, published an editorial this week in USA Today that essentially argues free speech rights should not and do not give people the right to make fun of Mohammad.
He argues that Charlie Hebdo, in its latest cartoon image of Mohammed, has "gone too far."  The "offensive depiction of Mohammed" should not constitute free speech, the journalism professor suggested.
The College Fix reached out to Wickham via email to confirm whether he was suggesting that the First Amendment does not protect insulting Mohammad. He replied that interpretation was incorrect but did not elaborate, nor respond to follow-up emails. 
The image he referenced in his op-ed appeared on the cover of Charlie Hebdo only days after the attack on its office in Paris earlier this month, when radical Islamists killed 12 people. The image shows the prophet crying under a headline: "All is Forgiven."
Wickham suggested in his op-ed that the Charlie Hebdo cartoon is to blame for several violent riots that have occurred in the Arab world following its release. He then proceeded to call for broad limits on free speech, basing his argument in his understandings of U.S. Supreme Court rulings, writing that:
… given the possible ripple effects of Charlie Hebdo's mistreatment of Islam's most sacred religious figure, at least people in this country should understand the limits America's highest court has placed on free speech.

In 1919, the Supreme Court ruled speech that presents a "clear and present danger" is not protected by the First Amendment. Crying "fire" in a quiet, uninhabited place is one thing, the court said. But "the most stringent protection of free speech would not protect a man in falsely shouting fire in a theater and causing a panic."

Twenty-two years later, the Supreme Court ruled that forms of expression that "inflict injury or tend to incite an immediate breach of the peace" are fighting words that are not protected by the First Amendment. …
Ari Cohn, a free speech lawyer at The Foundation for Individual Rights in Education, told The College Fix in an email that Wickham's analysis of free speech "misses the mark in several ways."
"The 'clear and present danger' test he cites comes from an early 20th century wartime case holding that voicing opposition to conscription could be prosecuted as an attempt to obstruct the draft," Cohn said.
Notably, Wickham also fails to mention Brandenburg v. Ohio in which the court clarified "clear and present danger" by establishing an imminent lawless action test. It set a precedent that the state cannot ban speech unless the speaker intends to incite a violation of the law that is both imminent and likely.
Cohn said the satirical cartoonists at Charlie Hebdo "did not advocate, and could not reasonably be interpreted as advocating, for anyone to break the law. They were nothing more than social commentary."
Wickham also references Chaplinsky v. New Hampshire, in which the Supreme Court defined "fighting words," which is a type of unprotected speech.
But characterizing the satirical cartoon of Mohammed as "fighting words" is also inaccurate, according to Cohn. He said "fighting words" are "an extremely narrow category of speech limited to abusive epithets spoken face-to-face to a particular individual, which would tend to provoke an immediate violent response."
Wickham concluded his editorial by arguing that because the satirical cartoons incite violence in the Arab world, they push "Charlie Hebdo's free speech claim beyond the limits of the endurable."
Using similar logic, Cohn noted, one could conclude "that the civil rights advocacy of the 1950s and 1960s was not protected by the First Amendment…This advocacy could, would, and did lead directly to violent and heinous acts of reprisal and intimidation by groups like the Ku Klux Klan and other segregationists. The irony of Wickham's article being published on Martin Luther King, Jr. Day is breathtaking and inescapable."
Cohn was particularly troubled by Wickham's understanding of free speech and the role of the press, given his standing in academics.
"If student journalists are being taught that their First Amendment rights are or should be limited by how others might react to their work, the profession is in significant trouble," he said.
Prior to coming to Morgan State University, Wickham was scholar-in-residence and distinguished professor of journalism at Delaware State University, distinguished visiting professor at the University of Pennsylvania, and distinguished professor of journalism and chair of the Department of Journalism and Mass Communication at North Carolina A&T State University.
College Fix contributor Alexandra Zimmern is recent graduate of the University of Wisconsin-Madison.
Like The College Fix on Facebook / Follow us on Twitter
IMAGES: Internet screenshots