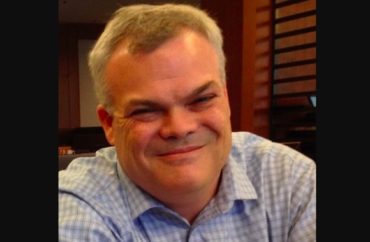 One of the more noteworthy items on social media this past week was the news that billionaire Elon Musk had become Twitter's biggest stock shareholder, and he indicated his interest isn't "passive."
That, plus Twitter CEO Parag Agrawal announcing that Musk had joined the company's board of directors, led to many expressing hope that Musk's influence would lead to a reinstatement of Donald Trump's Twitter account.
The former president was thrown off Twitter, Facebook and other social media following the January 6 "insurrection" at the Capitol.
The speculation about Trump possibly coming back didn't sit very well with the progressive elite, whose view on free discourse is, let's say, rather unique.
CNN's Brian Stelter said "Elon has criticized Twitter for not allowing free enough speech. And so I think the big question will be whether he'll try to, you know, get Twitter to change its content moderation policies." He went on to ponder the possible dangers of an incredibly wealthy man influencing "one of our most important communications tools."
Mark Zuckerberg and Jeff Bezos, however? Meh.
Liberal editorial cartoonist Tom Tomorrow (aka Dan Perkins) wrote in a now-deleted tweet "Make no mistake, the new management is the beginning of the end of this place as any sort of functional or useful site."
The headline of a Bloomberg article read "Elon Musk's Twitter Investment Could Be Bad For Free Speech." Reporter Andy Ngo noted Twitter engineering manager Jay Holler had said Musk's involvement in the platform has "radicalized" and "broken" him.
MORE: Prof: Trump shouldn't be allowed on Twitter due to his climate change views
Texas Christian University journalism professor Daxton "Chip" Stewart tweeted "So, if Trump and his insurrectionist pals get back on Twitter thanks to Musk's meddling, I'm out. And I imagine a lot of y'all are too. The question is, where do we go, especially if we've already left morally bankrupt Facebook?"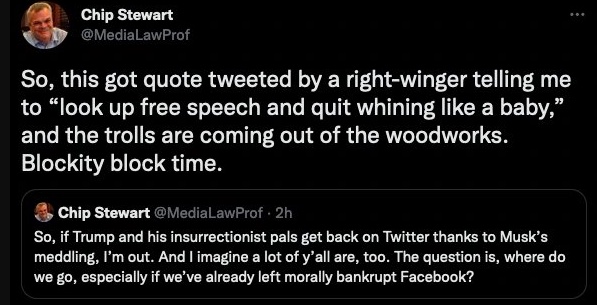 Shortly before protecting his Twitter feed, Stewart complained about "trolls" and respondents telling him to stop "whining like a baby" with one "right-winger" telling him to "look up free speech." On that last point at least, Stewart's sarcastic insinuation actually has some merit; he did, after all, say he would just leave the platform.
Remember, in Twitter's case progressives suddenly liked how "private" companies could regulate speech as they saw fit.
Still, a journalism professor at a major university would vamoose from a major social media outlet … because a former U.S. president might be reinstated? What about other allegedly unsavory individuals who are still on Twitter?
I asked Professor Stewart about just this via email, as well as
— how is Elon Musk "meddling"?
— how is Facebook "morally bankrupt"?
He did not respond. Here are my guesses as to why:
It's pretty damn silly to take a stand on Donald Trump possibly coming back to Twitter while folks like Vladimir Putin, Sayyid Ali Khamenei, and various Chinese officials are still on the platform. And that's just for starters.
As for Musk's "meddling," Stewart and others are just cheesed that the billionaire threw a curveball at their usual "build your own Twitter if you don't like it" response to conservatives' criticism of the platform's censorship. Instead of building his own, he'll just take over what's already there (possibly).
It's not clear why Stewart believes Facebook is "morally bankrupt"; certainly a good case can be made about its founder, but like Twitter, Facebook's censorship is severely skewed in one political direction — and it's to Stewart's liking.
It's also not clear how the professor can invoke morality when he makes use of sources like Media Matters for a so-called point about the "white supremacists" and "homophobes" who support Florida's Parental Rights in Education law:

I must say it never gets old watching progressives have paroxysms of self-righteous anger when anyone who differs with their orthodoxy is allowed to express themselves. Remember the Obama administration's attempts to cancel Fox News? Progressive Twitter and other social media still want the largest right-leaning media outlet squelched.
And these very same people tell you they are fighting to "save democracy"?
MORE: Duke alumnus, U. Maryland prof 'win' Twitter suit against Trump
IMAGES: Chip Stewart / Twitter
Like The College Fix on Facebook / Follow us on Twitter