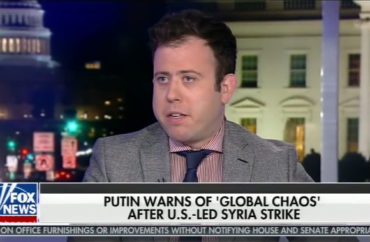 'There's this real festering wound' from Halloween 2015
James Kirchick noticed something was amiss as a student at Yale University in the mid-2000s.
Though campus conservatives could invite a polarizing figure with no attempted shoutdowns, liberal students were only a minor presence in the Political Union, a debate club.
More than a decade later those seeds of indifference toward opposing views have bloomed into full-blown intolerance, and Kirchick has decided he can't just criticize his alma mater's direction from the sidelines.
The foreign correspondent and Brookings Institution visiting fellow, author of The End of Europe, announced in The Wall Street Journal last week that he's running for the Yale board of trustees on a platform of free speech against "fashionable opinion."
Yale is where he "pursued a passion for sketch comedy, started writing a newspaper column, came out of the closet, and gained the critical-thinking skills that equipped me for a career in journalism," Kirchick wrote.
Then a professor told students not to be so offended by others' Halloween costumes, and all hell broke loose.
MORE: Yale is a 'squid monster' that prioritizes comfort over learning
A great move by Jamie Kirchick. Any Yale grads should support him:https://t.co/ukoiUoMEda

— Ron Radosh (@RonRadosh) June 3, 2018
When the 'mob' gets a prize for improving race relations
"To be honest I think that there's this real festering wound from what happened in 2015," Kirchick told The Fix in a phone interview, referring to the controversy in which students surrounded and berated Nicholas Christakis for defending an email written by his wife Erika, the professors and masters of the Silliman residential college.
Erika Christakis had questioned whether Yale students should be told by the administration what Halloween costumes were appropriate to wear. She quit that December and Nicholas Christakis left for the spring semester.
Kirchick noted in the Journal that two years later, the university gave two leaders of the "mob" the Nakanishi Prize, awarded to high-performing students who have "provided exemplary leadership in enhancing race and/or ethnic relations at Yale College."
Alumni he's spoken with "over the years told me that they felt betrayed by Yale, that they didn't understand what happened, that they stopped giving money to Yale," Kirchick told The Fix.
"And there needed to be some sort of statement to the administration that this was wrong. And that Yale was betraying its values in the way that it handled this controversy," he said.
MORE: Student goes nuts in confrontation with Yale college master
Kirchick sees these events as part of a broader, worrying trend that he has witnessed across the country, especially in higher education, "of intolerance of debate, of free speech … a real closing of the American mind."
His petition campaign to get on the trustee ballot (below) "seems like a way to, perhaps, get the administration's attention," he said.
As a journalist, Kirchick has traveled to many countries that repress their people's speech with violence. His own event at DePaul University a year ago, on radical Islam's discrimination against the LGBTQ community, was repressed: The administration refused to let the sponsors post signs reading "Gay Lives Matter."
"I've had the experience of seeing those sorts of cultures and regimes up close and meeting some very courageous people who put their lives on the line for freedom of speech," Kirchick told The Fix, "and I think it's a real shame that we don't understand how valuable it is and how rare it is actually in the world today."
What happens when you create 'busybody' administrator positions
Asked how this had happened, particularly at Yale, Kirchick pointed to two interrelated sources: administrative bloat and a decaying appreciation for Yale's values of free thought and critical inquiry.
"If you look at what happened in 2015 something was wrong in the culture that these students felt that they could behave this way towards a professor and get away with it," Kirchick told The Fix. "And then it was confirmed two years later when two of the students who led this mob received a prize from Yale. So Yale is sending a message to students that this kind of behavior is okay."
He put Yale in his cross hairs a year ago, publishing an article in Tablet denouncing the university for rewarding the student "mob" leaders against the Christakises with a prize.
MORE: Erika Christakis quits teaching: climate not 'conducive to civil dialogue'
Kirchick told The Fix that this culture had thrived in part due to the rapidly growing number of superfluous college administrators. Burgwell Howard (below), dean of student engagement, was at the heart of the cultural messaging that spurred the 2015 protests. He sent the email questioned by Erika Christakis, which explained what costumes Yale students should and should not wear to be inoffensive.
Howard's position was "sort of a busybody," and "he had nothing else better to do, and he was hired to do stupid stuff like this," Kirchick said:
You know, send out stupid emails about Halloween costumes. … And then, the crazy thing is he, the same administrator who provoked this conflict, was also on the prize committee that gave the [Nakanishi] award. So the whole thing, start to end, was just a total scandal and it all traces back to this decision to build up the school with these, frankly useless, administrators.
'I have no idea what these people do all day'
While the rise in political correctness has undermined the value of a Yale education, Kirchick believes this spike in busybody administrators has made that devalued education more expensive, and there's evidence to back it up.
"According to the Department of Education data, administrative positions at colleges and universities grew by 60 percent between 1993 and 2009, which Bloomberg reported was 10 times the rate of growth of tenured faculty positions," University of Colorado-Boulder Prof. Paul Campos wrote in The New York Times months before the Christakis incident. At the same time, "average salaries of the people who do the teaching in American higher education are actually quite a bit lower than they were in 1970."
"The administrative bloat is getting out of hand," Kirchick told The Fix. "The fact that tuition is now $70,000 is just outrageous." (His cited figure also includes room and board.)
He pointed to a national trend across college campuses of rising tuition costs and growing numbers of seemingly useless administrators.
"There's something like 100 people at the diversity office at University of Michigan," Kirchick said, citing figures recently shared by University of Michigan-Flint economist Mark Perry. "This costs about $8-9 million a year. And I have no idea what these people do all day."
University of Michigan's Small Army of Nearly 100 Diversity Bureaucrats at an Annual Cost of $11M = Full tuition for 765 Students. pic.twitter.com/kvYFlJY4Y0

— Mark J. Perry (@Mark_J_Perry) May 20, 2018
As administrators increase the campus intolerance to honest and open discussion, so goes students' ability to think critically, Kirchick said.
"You can't have education without the ability to question, no matter what the issue is," he continued:
And that certain topics are considered off [limits], not suitable for discussion or shouted down, or the speakers are violently prevented from speaking or harassed – then I think we're really limiting our options in human understanding and developing our minds further.
Kirchick sees even greater potential negative consequences beyond Yale's campus. "I don't want to sound too much like a Yale chauvinist here, but I do sort of think, you know, so goes Yale, so goes the country":
I think these are future leaders being trained, future presidents, future senators, future editors of major newspapers and publications, and if they don't have a real fundamental appreciation for the First Amendment and freedom of speech and freedom of thought, then we're in for a real troubling future.
MORE: Check out the multimillion-dollar diversity army at UMich
'There should be someone in the room who says, "can we look at the numbers here?"'
Echoing the warnings given to incoming University of Chicago students about the administration's expectations of them, Kirchick said Yale needs a radical change in the culture and administration.
It must be made clear to incoming students that Yale values freedom of thought and critical inquiry. "You know, we are not going to shut down speakers, you are not going to scream at your professors because you don't like an email they sent. There are not gonna be trigger warnings in your readings," Kirchick told The Fix.
"This institution is not a safe space. … a little tough love, I think, would be a nice antidote to some of these worrying trends."
As a member of the board, Kirchick hopes to be the dissenting voice against administrative bloat and the growing ideological intolerance on campus. Given the lack of board response to the Christakis incident, that "skeptical" voice is evidently missing, he said:
When the president of Yale says 'OK, we're going to spend $50 million on a diversity initiative' … There should be someone in the room who says, 'wait a minute, can we, you know, look at the numbers here, can we look at what's actually going on, does this make sense?' Because right now I don't get the sense that that's happening. I don't get the sense that there's much checks and balances in the system.
He wants to serve as the voice for the "perhaps silent majority of alums who think that Yale is moving in a bad direction," Kirchick said: "Clearly it has to be rectified or else things are going to get worse."
MORE: Yale buys off crybullies with $50 million diversity hiring effort
IMAGE: Ed Sanora/YouTube, JamieforTrustee.com, Burgwell Howard/Twitter
Like The College Fix on Facebook / Follow us on Twitter