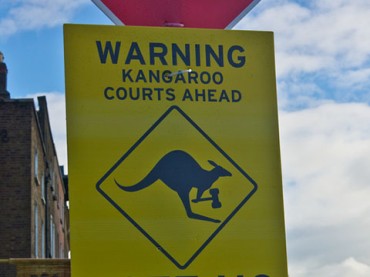 There's an American legal principle known as Chevron deference that says that federal judges have to accept an agency's reading of a statute as long as it's "reasonable," even if it's not the best interpretation in the judge's view.
Universities have relied on something similar in their quest to punish students accused of sexual misconduct, regardless of the strength of the evidence against them, rather than risk an investigation by the Department of Education for letting off a supposed rapist.
Brooklyn College professor KC Johnson, co-author of a book on the Duke lacrosse rape case, recently documented how federal judges in sexual-assault cases had blessed universities to run their adjudication processes however they saw fit, free from any protections of the legal system.
Judges have a vested interest in staying out of these cases: They already deal with heavy caseloads and trials can stretch on for years. Plus, no one's going to jail. It's all supposed to be "educational."
One state judge, however, just struck a huge blow for due process and against schools' unlimited discretion to run blatantly biased proceedings against the accused. Unsurprisingly, excluded text-message evidence is again involved.
Unfettered questions for me, not for thee
Judge Joel Pressman of the California Superior Court is overseeing a student's lawsuit against the University of California-San Diego for not only finding him responsible for sexual behavior (digital vaginal penetration) against the consent of his partner, but escalating his punishments when he appealed the decision.
The school's behavior during and after the proceeding is mostly not in dispute. As Pressman documents in his Friday ruling that the hearing was "unfair" to John Doe:
The chair of the hearing panel refused to let Doe cross-examine "Jane Roe"; the chair herself asked Roe just nine of the 32 questions that Roe requested, and denied him followup questions in response to Roe's answers

The chair left out pertinent questions about text messages between Doe and Roe, and their relationship following the accusations

The university representative's questions to Roe weren't reviewed by the chair at all

The panel placed Roe "behind a barrier" at the hearing, despite the lack of evidence that Doe had been "hostile" to Roe since their sexual encounter last year (it's in dispute whether Roe was visible to both the panel and Doe, to visually witness her reactions and judge her credibility)

Doe was denied "his right of confrontation" against the investigator in the case, the witnesses she interviewed and Roe's own interview statements

The panel passed off its duty to judge whether Doe violated school policy to the investigator, "who was not even present" at the hearing

The panel held Doe's 5th Amendment right of silence against him
It's irrelevant that all of this happened in an administrative proceeding, Pressman says from the start: "People involved in an administrative proceeding have a right to cross-examine witnesses, this right 'is considered as fundamental an element of due process as it is in court trials.'"
If you are 'physically indicating' you want sex, your mindset isn't relevant
Under California law, Pressman has to review whether the university (which exercised "quasi-judicial power") had "substantial evidence" favoring its decision against Doe, "in light of the whole record."
Not even close, Pressman said:
"Crucial findings" were based on the investigation summary, which was "not presented at the hearing in any meaningful way"

Roe herself was her only witness at the hearing, and she didn't even claim the alleged sexual contact was nonconsensual, just that it was "not pleasurable for her at that time" (Doe steadfastly denied he tried to "finger and touch" Roe)

Roe "admitted that she voluntarily continued consensual sexual activity with Mr. Doe later that very same day"
Pressman's interpretation of Roe's behavior should be studied carefully by future investigators, panel members and school officials:
What the evidence does show is Ms. Roe's personal regret for engaging in sexual activity beyond her boundaries. … The panel's finding in paragraph 3 illustrates the lack of evidence: "Jane stated that she physically wanted to have sex with Ryan but mentally wouldn't." The record reflects this ambivalence on the part of Ms. Roe. But Ms. Roe's own mental reservations alone cannot be imputed to petitioner, particularly if she is indicating physically she wants to have sex.
Set it and forget it
Perhaps the easiest change for universities to make, if they want to escape UCSD's fate, is simply to set a punishment and leave it.
Pressman was particularly baffled why the dean extended Doe's suspension from one quarter to a full year after Doe appealed the panel's decision – which meant he'd have to reapply to UCSD – and why the provosts then added another quarter of suspension to the full-year suspension when Doe appealed to them:
Given the lack of rationale by both Dean Mallory and the Council of Provosts for the increased sanctions, it appears the increased sanctions are punitive towards Petitioner for appealing the decision of the Panel.
No one should assume that Judge Pressman's decision, and its thorough examination of due-process concerns in administrative settings, is going to turn the tides in favor of students accused of misconduct. It's one ruling affecting one university.
But it's a very good template for judges who are now hearing what seems to be an explosion of due-process cases by accused students against their universities. And it will inevitably be cited by those plaintiffs.
And universities will once again revert to their most reliable defense: It's not a legal process. It's educational.
Like The College Fix on Facebook / Follow us on Twitter
IMAGE: William Murphy/Flickr