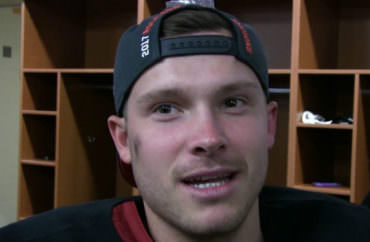 But he's still not allowed on campus because it might prejudice USC?
The University of Southern California believes Matt Boermeester used violence against his girlfriend Zoe Katz. She doesn't, and alleges the university threatened her for disputing its view.
The expelled football player's curious case shows Title IX enforcement has become a "failed system," Education Secretary Betsy DeVos* said last week when she announced a department pivot on Title IX interpretation and enforcement.
A day later, Boermeester convinced a judge to block his expulsion as his lawsuit against the private university continues, the Los Angeles Times reports.
But Los Angeles County Superior Court Judge Amy Hogue still won't let him enroll in classes or come within 100 yards of campus.
She said it won't won't cause him "irreparable harm" to stay off campus for now:
However, issuing such an order [letting Boermeester back on campus] at this stage in the proceedings will inevitably raise questions among students and other members of the university community whether the university's disciplinary decision may have been erroneous, unlawful, unfair or unenduring.
MORE: USC threatened me for saying Boermeester didn't beat me up, Katz says
In other words: It would harm USC's reputation among students if a student whose only accuser is the university, not his alleged victim, was allowed to continue his studies. It might even make them question the fairness and credibility of USC Title IX investigations.
The university's lawyer claimed that lifting Boermeester's expulsion "would keep future victims of sexual assault or harassment from coming forward."
Boermeester's lawyer, Mark Hathaway, tried to tell the court about DeVos's remarks about the lawsuit the day before, "but Hogue interjected that she wasn't able to consider the remarks in reaching the decision," the Times reports.
The former football player previously claimed the university wouldn't even let him "indirectly" cross-examine witnesses who said he his put hands around Katz's neck and pushed her into a wall,
He also said he and Katz, who are still dating, have viewed surveillance video that shows "nothing untoward occurred" in the alley where they were roughhousing with each other, but USC refuses to let them make copies of it.
MORE: Boermeester says USC is hiding surveillance video that exonerates him
IMAGE: Gary George/YouTube
Like The College Fix on Facebook / Follow us on Twitter