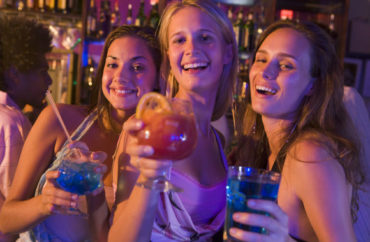 School already on thin ice with judge for breaking his rules
Miami University in Ohio wants the media to know that it ran "a fair and impartial judicial process" that ended with an accused student found responsible for sexual misconduct and banned for two years.
"Fair and impartial" means:
Accepting written witness testimony as "true" because the witnesses never showed up for the hearing

Retroactively negating sexual consent if an accusing student has even a sip of alcohol

Pulling a bait-and-switch on the accused – switching the charges in the middle of the proceeding
A federal judge recently ordered the public university to let "John Nokes" back on campus, lift his punishments (save for a no-contact order) and not release his real name, as Nokes' lawsuit against the public university continues.
Miami University may be in a mood to settle, and not just because U.S. District Judge Michael Barrett shredded its adjudication procedures for failing the most basic rules of fairness – notably, the opportunity to cross-examine "adverse witnesses."
The university also has already drawn a warning from Barrett for violating the rules of his court because it (mistakenly) thought Nokes did the same thing first.
When Nokes alerted the court to a "relevant opinion" handed down two days earlier by a nearby court – in a "case citation and short parenthetical" – Miami University's lawyers thought that violated a rule against unsolicited "additional briefing."
They then submitted five pages of arguments in response to Nokes' brief notice. Barrett said that was an indisputable violation, and told the university it wouldn't be warned again:
[A]ny such violation will be deemed a violation of an Order of this Court … This admonition may seem harsh for Defendants' first violation, but the Court deems it appropriate given how strongly the Court expressed its dislike for surprise at the preliminary injunction hearing.
'Under the influence'
The dispute boils down to contrasting statements by Nokes and "Jane Roe" about the nature of their sexual encounter on their way home from a bar, and then in the dorm, last November.
Roe's first written statement emphasized that Nokes had coerced her into performing oral sex and digitally penetrated her without consent, while both were "under the influence." Her second statement emphasized how much she drank before that point – perhaps "a pitcher" and two cocktails – and that Nokes repeatedly noted how "drunk" she was during and after their encounter.
Nokes testified that he thought Roe was dating his best friend, so he was surprised when she asked him to buy her a drink, moved suggestively toward him at the bar, and then followed him out of the bar and grabbed his hand, at which point they decided to hook up but not have intercourse.
From their making out and petting as they crossed campus, to the culmination of their sexual contact in a private dorm bathroom, Roe was a full participant and acted of her own accord sexually, according to Nokes.
Forced or 'severely intoxicated'?
While questioning Nokes, two members of the hearing panel suggested that any alcohol consumption by an accuser negates that person's consent. The court reprints a transcript portion:
MR. SCOTT: What does [mandatory student training] say about alcohol?

MR. [JOHN NOKES]: That an excess of alcohol is not — an excess of alcohol does not — you can't give consent if you have a large amount of alcohol.

MR. SCOTT: It's says large amount?

MR. [JOHN NOKES]: This is from my understanding, sure.

MR. SCOTT: It says alcohol. It does not say amount.

MR. [JOHN NOKES]: So with that definition — I'm honestly just asking, but that definition if everybody on this campus who takes a drink of alcohol and kisses their boyfriend or girlfriend, is that nonconsensual?

MS. VAUGHN: Potentially, yes.
That official is Susan Vaughn, who presided over the hearing and is a named defendant.
Accuser's witnesses don't appear; panel chair says must accept claims as true. No basis for this in Miami rules: pic.twitter.com/WC5x8jsgMU

— KC Johnson (@kcjohnson9) August 25, 2017
The hearing's focus on alcohol consumption troubled Judge Barrett, because the "notice of violation" given to Nokes three weeks earlier said he was charged with "sexual assault by the use of force or threat of force." It did not mention inability to consent via incapacitation.
Nokes was eventually found responsible because the hearing panel determined Roe was "severely intoxicated." (Both forced sexual contact and incapacitation are mentioned in the consent section of the student conduct code.)
Miami University and the defendant officials in the case "seem to believe that the Code's broad consent definition is a helpful fact for them," which was a bad assumption, Barrett said.
Not only have other courts rejected "similar arguments," but the university of its own volition told Nokes that he was "specifically" charged with use of force:
In other words, once a university directs a student to a broad certain code section, but limits the "specific" conduct that is being investigated, can it credibly argue the student should still be on notice that it must defend all possible violations of that section? …

Here, Plaintiff was not found responsible for the noticed violation, i.e., sexual misconduct by use of force.
Judge: if notice says that student will be charged w/using force, univ can't then turn around and focus case on intoxication level. pic.twitter.com/2z7fRyCd84

— KC Johnson (@kcjohnson9) August 25, 2017
Barrett also told the university that Roe's second statement, which emphasizes her intoxication level, did not necessarily put him on notice of what he was facing: It was given to him a week before the hearing, perhaps too little time, and after Nokes had already prepared his defense.
Susan Vaughn, the presiding officer who set an incredibly low bar for incapacitation via alcohol, had also primed Nokes to discuss "severe intoxication" at the hearing, because she had brought it up first, the judge noted.
'Defendants miss the point of cross-examination'
Vaughn also played a major role in the judge's discussion of why cross-examination was crucial to Nokes' case.
Regarding the three witness statements furnished by Roe – whose witnesses never showed up to the hearing – Vaughn had said she must "take this as fact. That is all true."
One of those was especially damaging. Roe's roommate said she came back from her experience with Nokes "in tears," yet Nokes was "never able to test the roommate's memory or credibility, including any improper motives for testifying as such," Barrett said.
In a large university setting – Miami University has 24,000 students – administrators do not have "particularized knowledge" of their students' trustworthiness, making cross-examination more important for university adjudications, according to the judge.
Some of his most stinging rebukes of the university are in the footnotes. Responding to the university's argument that Nokes hadn't shown cross-examination would have changed the panel's "outcome," Barrett wrote:
Specifically, in response to Plaintiff's argument that he would have challenged witness credibility had he been given the opportunity to cross-examine (i.e., lack of personal knowledge, memory, etc.), Defendants argue that Plaintiff "was able to do all of these things himself through his statements to the Hearing Panel." … Defendants miss the point of cross examination, which allows the fact-finder to assess witness demeanor and responses in order to "assess the credibility of those who disclaim any improper motivations." … If anything, Defendants' claim that no amount of cross-examination could have changed the minds of the hearing panel members arguably undercuts the fairness of the hearing Plaintiff received.
Opinion's most interest section comes in footnote, where judge ridicules Miami claim that accused student denying charges equiv. of X-exam. pic.twitter.com/UfexbRshfY

— KC Johnson (@kcjohnson9) August 25, 2017
In another footnote, Barrett rejected the university's view that Nokes tried to stop one of his original witnesses from testifying – Roe's alleged beau – when that witness showed up to the hearing asking for his statement to be ignored.
Nokes had offered to play that witness's "recorded interview" for the panel, which allegedly complicated Roe's version of events, but the panel declined. Barrett continues:
Furthermore, one of the issues in this case is the purported right of an accused student to confront adverse witnesses, so the Court is not persuaded by Defendants' argument that "Mr. Nokes should not be permitted to use provisions of the University's Code of Conduct [allowing use of written/recorded witness statement] where it benefits him, and then argue to this Court that his constitutional due process rights were violated by the same provision."
In response to the documented record repeatedly highlighted by Barrett, the university maintains to the media that nothing is amiss about its adjudications.
The Journal-News reports:
Miami officials said in July and reiterated to this newspaper Tuesday that "alleged Title IX violations involving accused students are investigated in a prompt, fair and impartial manner by trained staff through Miami's Office of Ethics and Student Conflict Resolution."
"Disciplinary hearings for Title IX violations are held before a trained Administrative Hearing Panel – two faculty and one staff member. Panel members receive annual training on issues related to Title IX violations and on conducting a hearing process that protects the safety of students and promotes accountability," [spokesperson Claire] Wagner told this newspaper Tuesday.
The university said it hasn't decided whether to appeal. It probably won't do itself any favors if it does.
Like The College Fix on Facebook / Follow us on Twitter
IMAGE: Monkey Business Images/Shutterstock