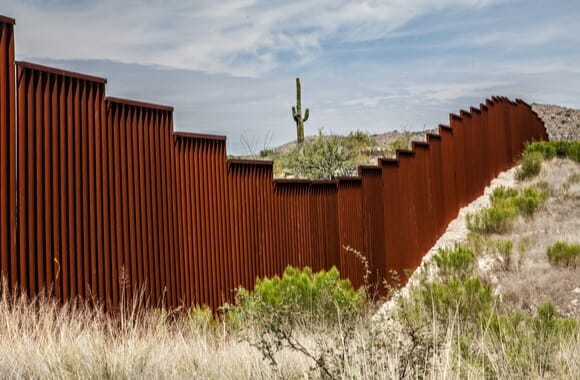 An Oregon high school which told a student he could not wear an anti-illegal immigration t-shirt has been shot down by a federal judge.
Liberty High student Addison Barnes' shirt reads "Donald J. Trump Border Wall Construction Co." followed by "The Wall Just Got 10 Feet Taller." He was suspended back in January for wearing it, The Oregonian reports, as the school said it created a "hostile learning environment."
Ironically, Barnes wore the tee on a day when his "People and Politics" class was discussing immigration. An assistant principal informed him he'd have to cover the shirt, noting that "at least one other student" and a teacher said it had offended them.
Barnes complied at first, but then changed his mind because "what he was asked to do wasn't right." Later that period, the assistant principal had a school resource officer remove Barnes from the class, and told him he could face a 10-day suspension for "defiance."
Barnes ended up suing the school, the district, and the Liberty principal.
Liberty HS officials argued in court that Barnes' shirt "would make students feel insecure in school," noting its 33-percent Hispanic demographic. They also indicated Liberty had been the site "of recent student walkouts and sit-ins to protest Trump's immigration policies."
Judge Michael Mosman responded, "So First Amendment protections vary from high school to high school?"
[…] Mosman found the Hillsboro School District could not justify its censorship. The judge said he balanced constitutionally protected speech with the orderly running of a school.

The school district is entitled to be concerned about the response of other students to the T-shirt, the judge said. But the "thin" court record so far offers little support for the district's argument that the shirt could "substantially disrupt" the school, he said.

"There's not enough to go on here to show that sort of legitimate concern justifying censorship of this core political speech," Mosman ruled. …

[Barnes'] lawyers argued that the shirt represented "pure political speech," caused no disruptions, didn't interfere with the school, promote or advocate illegal activity and contained nothing obscene or vulgar. They further argued that the school can't muffle one side of the immigration debate while allowing one of Barnes' teachers to display a sign in front of a classroom that reads, "Sanctuary City, Welcome Home."
When asked if he'll wear the shirt again before he graduates next week, Barnes' said "Yeah, that was the idea."
MORE: School mural depicts Trump's head impaled by Aztec spear
MORE: Superintendent apologizes for 'Trump' banner at HS football game
Like The College Fix on Facebook / Follow us on Twitter