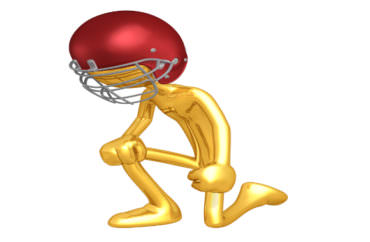 A U.S. district judge has issued an injunction against a California school district which had a policy requiring students participating in sporting events to stand for the National Anthem.
Judge Cynthia Bashant of San Diego said the policy "appears to violate the First Amendment rights of students," according to Education Week.
A student, identified as "V.A." who played football and basketball for San Pasqual Valley High School in southeastern California, had kneeled for the anthem during two games last fall to express his "personal feelings and concern about racial injustice in our country."
After a kneeling protest at an away game, V.A. allegedly was subjected to racial taunts with some students warning him that he would be made to stand for the anthem.
Following this incident, San Pasqual Valley Unified School District Superintendent Rauna Fox issued "initial rules" mandating that sports teams' players and coaches stand for the National Anthem.
"Kneeling, sitting or similar forms of political protest are not permitted during athletic events at any home or away games," the rules said. "Violations may result in removal from the team and subsequent teams during the school year."

The district decided not to play the anthem at San Pasqual High's subsequent final football game of the season, and it does not play the anthem at basketball games. When the anthem was played at an away basketball game on Nov. 28, V.A. left the basketball court and waited outside.

The school board has considered a draft permanent policy but has not taken any action.

V.A. filed a lawsuit challenging the initial rules as violating his free speech rights.

In a Dec. 21 decision granting V.A.'s request for the preliminary injunction against the rules, U.S. District Judge Cynthia Bashant of San Diego agreed […]

"The court finds that plaintiff's kneeling during the National Anthem is speech," Bashant wrote. "This action is closely linked to the similar, well-known protests performed throughout the country, started by former National Football League quarterback Colin Kaepernick."

Bashant said that by kneeling, rather than standing, during the National Anthem, V.A. was expressing a similar protest to, in the student's words, "racial injustice in our country."
The judge also noted that V.A.'s protests were not likely to cause an educational disruption, even given what had transpired at that away game.
"The court finds that, when applying Tinker, plaintiff is likely to succeed on the merits because the initial rules, as well as the proposed draft policy, are aimed at regulating students' speech that is unlikely to cause a substantial disruption of or material interference with school activities or interfere with other students' rights," Bashant wrote.
MORE: School protesters create 'educational disruption' to get Confederate flag banned
MORE: Judge upholds suspensions of students who 'liked' racist social media posts
IMAGE: Scott Maxwell/Shutterstock.com
Like The College Fix on Facebook / Follow us on Twitter