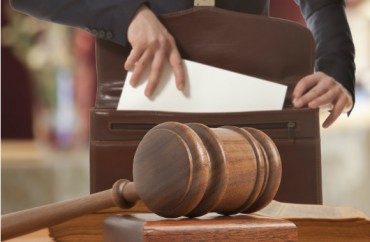 Federally mandated double jeopardy led to punishment
A federal court says a public university in Virginia violated a student's right to due process by punishing him severely after exonerating him of rape allegations.
In a memorandum opinion issued just before Christmas, the U.S. District Court in Harrisonburg, Virginia, said James Madison University deprived "John Doe" of a "protected property interest" in attending the university.
The university's five-and-a-half year suspension of Doe only happened after his accuser, "Jane Roe," appealed a finding in his favor.
The U.S. Constitution does not allow an accused person to be tried again after exoneration, known as double jeopardy, but the practice was forced on colleges by the Department of Education's 2011 "Dear Colleague" letter.
Contradicted by her own witness
Doe's lawsuit names JMU President Jonathan Alger and Senior Vice President of Student Affairs Mark Warner (not to be confused with the Virginia politician) as defendants.
It stems from a university investigation of an alleged dorm room rape in August 2014.
Roe didn't report the incident until October. She came forward to a resident assistant only when another peer, "Student A," also claimed Doe had been "physically aggressive" with her in another incident, according to the opinion by Judge Elizabeth Dillon. (Student A did not formally file a claim against Doe, to Dillon's knowledge.)
The Office of Student Accountability and Restorative Practices met in December to hear evidence to determine whether Doe had violated the university's sexual assault policy.
The board heard testimony from Doe, Roe and their roommates. Roe claimed that alcohol compounded by her use of Prozac caused her to become intoxicated.
She claimed she resisted Doe's sexual advances on her in his dorm room.
When Roe "realized she physically couldn't get away from him because he was on top of her," she asked that he put on a condom, which Doe agreed to do before the intercourse.
In testimony, Doe agreed Roe had been drinking, but two witnesses also said that they saw nothing amiss that night.
Doe's roommate said Roe appeared "very … normal." Roe had claimed her roommate had seen Roe with her clothes "off" and "out of it" in Doe's room, but the roommate testified Roe was "tired" and "droopyish" but otherwise fine when she returned from Doe's room.
The board determined later that day that Doe was "not responsible" for sexual assault.
Unexplained sanction on appeal
Using the double-jeopardy procedure mandated by the 2011 "Dear Colleague" letter, Roe appealed the board's decision and provided new evidence to support her claims.
The all-new appeal board, composed of three professors, allowed Roe several opportunities to submit evidence past her deadline, Dillon said.
Some of it was filed after Doe's response, and the appeal board elected not to give any deference to the previous board's exoneration of Doe.
James Madison case good illustration of another effect of Dear Colleague letter–allowing accusers to appeal not-guilty findings.

— KC Johnson (@kcjohnson9) January 4, 2017
Though the board did not accept any personal testimony, it saw a written statement from Roe's suitemate that claimed Roe's roommate had "lied" about Roe's state of mind.
The roommate allegedly "was out to cover her tracks" because she did not want to be implicated in drinking by association with Roe, the suitemate claimed.
Roe gave the board a voicemail left by her friend, which Roe believed would "emphasize that I was drunk and unable to give consent to sex."
According to Dillon's opinion, Roe "incorrectly" claimed the voicemail was left the night of the alleged assault when it had actually been left the day before.
The appeal board stopped short of finding Doe responsible for sexual assault but imposed a "new sanction" of suspension through the spring 2020 term – with readmittance possible only if he completed a counseling program.
In depositions provided to the court, Dillon wrote, one member of the appeal board acknowledged that the voicemail had been "significant" in her finding against Doe upon appeal.
The member realized the voicemail had been misrepresented only after the lawsuit was filed. During deposition, board member Prof. Ron Raab seemed unsure of himself, calling the hearing "convoluted" and "disorderly," and said he was able recall very little of the proceedings.
The board appeared to have prescribed a punishment in the absence of a finding against Doe, Dillon wrote.
The judge was unable to come to any conclusions about how the appeal board made its decision – punishment with no finding – but found the decision dubious based on depositions of board members.
"[T]he appeal board effectively reversed the decision of the hearing board without any explanation whatsoever," she said, "and without ever expressing a finding that Doe was responsible for sexual misconduct."
Prof. Raab did not immediately respond to an inquiry from The College Fix Tuesday, asking whether the board's omission of a finding was intentional or an oversight.
The appeal board's fact-finding was flawed because it didn't give Doe enough time to respond to new evidence, much less allow him to appear before the board to dispute Doe's evidence, Dillon said.
Doe's motion sought reimbursement of his attorneys' costs, a declaratory judgement that Alger and Warner violated his "procedural due process rights," and a permanent injunction requiring the university to readmit him.
The court opinion directs the university to negotiate an "appropriate remedy" with Doe.
A result of the 'campus frenzy,' not the evidence
The appeal board's unexplained sanction appears to have been influenced by "a campus frenzy over the issue of sexual assault," wrote KC Johnson, a professor who chronicles campus due-process issues, in a post for Minding the Campus.
The university was already under Title IX investigation by the Department of Education, and a student had gone public with her rape allegations after JMU issued a punishment of "expulsion after graduation" against her alleged attackers, who were never charged, Johnson said.
He also posted a transcript of the September 2015 hearing where the university's lawyers – the Commonwealth of Virginia – tried to talk Dillon out of finding Doe had a protected property interest in his education.
A federal judge in Alexandria, just two hours from Harrisonburg, had recently found that an accused student at George Mason University did indeed have a property interest in his education.
Under JMU's argument before Dillon, according to Johnson, "any student who wanted to conceal a wrongful finding of sexual assault could simply not produce his educational records. Judge Dillon rejected this suggestion as the false choice it was."
Like The College Fix on Facebook / Follow us on Twitter
IMAGE: Shutterstock