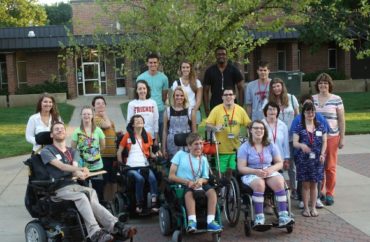 Students with intellectual disabilities can attend special classes and graduate alongside peers
A program for young adults with disabilities at a Wichita, Kan., university will continue next fall under new direction despite rumors of closure.
The assistant director of the Friendship Fields program at Friends University, Cynthia McGilvery, will take over as director next fall. McGilvery said she is "beyond excited about this opportunity."
"I am grateful that I get to continue this tradition," she told The College Fix by phone Wednesday.
McGilvery said she plans to spend this summer developing new curricula for the students and getting ready for their return in the fall.
"Summers are very very long for the students because they cannot wait to get back to school," she said.
According to the university website, "Friendship Fields is a program associated with Friends University that allows college-age adults with disabilities to experience college life while also offering Friends University students the opportunity to work with special needs adults."
Eligible students choose from two day programs scheduled for several hours per week, according to the site.
"One program is more social but has a life skills curriculum; the other is a four-year program with different classes each semester leading to participation in the university's graduation at the end of the four years," the website stated.
Friendship Fields students are also given the opportunity to attend university dances, athletic events, and music and culinary classes.
Three students made up the first graduating class of the program in May 2022, according to a KWCH 12 News article last year.
"Lots of people were upset when there was talk that the program might be closing," McGilvery told The Fix.
"The great news is that we are not closing, we're gonna move forward, and the kids will still have the program to attend and their caretakers will still have a safe place for them to be," she added.
After eight years of providing adults with disabilities with college experience at Friends University, some believed the Friendship Fields would close due to former director and founder Valerie Wall's retirement, KWCH 12 News reported last month.
A Friendship Fields intern protested the program's perceived closure with flyers and formed a Snapchat group of over 70 members who wanted to fight to protect it, the news station reported.
However, Friends University's public relations manager told The Fix the university never intended to shutter the program.
"The Friendship Fields program has been a blessing to our campus," Friends University spokesperson Laura Fuller wrote in an email. "It is our intention to continue the program and we wish Val the best in her retirement."
Former director Wall (pictured, far right) started Friendship Fields to give adults with intellectual and other disabilities a college experience, according to the program staff page.
"I taught special education for 32 years, and I always had students come and ask me and talk about going to college, but that was not a possibility for them because they couldn't do the work required of them," Wall told KWCH.
"They want to go to college and do the things that everybody else gets to do," she said.
MORE: Mizzou launches new program for students with intellectual disabilities
IMAGE: Friends University
Like The College Fix on Facebook / Follow us on Twitter