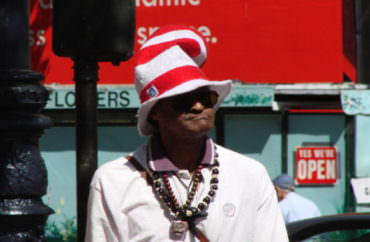 A Kansas State University professor wants you to take children's books "just as seriously" as those written for adults, even when it comes to topics like racism.
English professor Phillip Nel asks the, er, important questions in his book Was the Cat in the Hat Black? which deals with the "hidden racism in children's books."
According to The Mercury, Nel argues in the book "that to change children's literature we have to structurally alter the publishing industry and make commitments to hire more people of color in all phases of the industry."
Children's literature is "overwhelmingly white," Nel says (which include himself, by the way) — only 20% of children's books featured characters of color last year, despite 50% of school children being non-white.
The professor says the Cat in the Hat is a "racially complicated figure," one influenced by (blackface) minstrelsy and artwork by people of color.
"If you want to think about the Cat in particular, he's a black cat, he invades a white home and causes chaos," Nel says.
"On the one hand, that's actually good because the children are bored out of their mind until he gets there. On the other hand, he is essentially [the] other."
The ways in which the Cat, or other cartoons in children's literature, are racialized are not obvious to most people, Nel said.

"What's interesting about children's literature is racism often hides in it in ways that we don't notice, in ways that we don't see, in ways that we're not even consciously aware of," Nel said. And that's worth talking about because that's actually how racism works."

Nel said people aren't openly racist, rather people don't usually realize how racism affects their thinking and it informs assumptions about both the world and daily life.

[Dr.] Seuss serves as an example of that, Nel said. He said Seuss was probably not aware that he was recycling racist stereotypes as he wrote anti-racist work.

"I think Seuss was anti-racist and racist," Nel said. "And I don't think that is a contradiction." …
Nel also points to Charlie and the Chocolate Factory's Oompa Loompas, who were originally to be African pygmies, as an example of children seeing characters "who are clearly happier in a subservient position."
The prof is happy to hear from his critics as, he says, that's how people learn from one another. However, he notes that he's cognizant of his limitations on the topic (he's white, after all).
"Whether we endorse racism or don't endorse racism, all white people are beneficiaries of white supremacy all the time," Nel says. "And as the major beneficiaries of white supremacy, we have the strongest moral obligation to speak out against it."
MORE: Professor: There are too many white characters in children's books
MORE: Children should learn queer theory in elementary science class, argues science prof
Like The College Fix on Facebook / Follow us on Twitter
IMAGE: Dave/Flickr