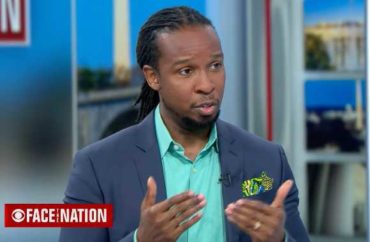 Cites 'racist' idea about 'corrupt' black leaders
Ibram Kendi continues to blame "racist" criticism of his Center for Antiracist Research.
"Not everyone wants to build an antiracist society; that is clear," Professor Kendi told the Boston University student newspaper when asked if coverage of the downfall of his center has been "fair."
"I have been disappointed in journalists who report criticisms of a Black leader without asking for evidence to substantiate those allegations," he told The Daily Free Press. "Racist ideas about a corrupt Black leader running a dysfunctional or toxic organization are so ingrained that reporters don't feel the need for evidence."
He used similar themes to what he wrote on X on Sep. 27. He acknowledged "missteps" but also stated that "[l]eaders of color and women leaders are often held to different standards" and called his center's work "crucial" for "antiracist" efforts.
One of the primary sources of evidence for the "toxic" accusations came from Saida Grundy, a black professor at Boston University.
The College Fix has also frequently sought information from Kendi's team and colleagues about the work of the center, reaching out dozens of times for just three articles alone, often to be met with no answers.
His own university is currently investigating his center for mismanagement of funds and for allegations of a toxic workplace.
He gave a similar answer when the student newspaper asked him about the high turnover rate. "When explaining turnover rates of white-led organizations, people inside and outside the organization usually point to larger structural factors," Kendi said. "When explaining turnover rates of Black-led organizations, people inside and outside the organization usually point to bad leadership."
Kendi also continued to cite a tracker on COVID and racial data, despite all the work being completed by The Atlantic and a team of volunteers, as an accomplishment.
He said in the interview:
Early in the pandemic, the Center partnered with the COVID Tracking Project on the COVID Racial Data Tracker, which emerged as a leading state-level tracker of racial disparity data for cases and deaths. We learned a lot about racial data collection and reporting from our work with the COVID Racial Data Tracker. We took that learning and produced a report that called for its standardization and a nation-wide system of racial data collection and reporting. Also, all reports, briefings and trackers will be archived on the website and will continue to be available.
His center announced several weeks ago it had laid off about half of its workforce.
It came just a few weeks after The Fix reported Kendi had not written an academic paper in the past four years but had written two children's books in the same time period.
MORE: Diversity statements used to cull applicant pool
IMAGE: Face the Nation/YouTube
Like The College Fix on Facebook / Follow us on Twitter