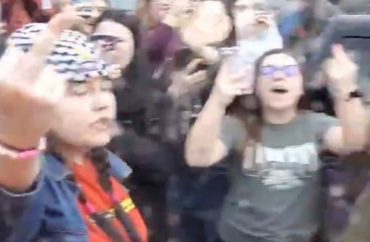 Vows to return with 'army of gun owners'
The controversial Kent State "gun girl" Kaitlin Bennett visited the campus of Ohio University on Monday to film a video on President's Day trivia, only to be chased off campus by an angry mob. Now she is vowing to return to the campus with "an army of gun owners."
In a series of videos posted on Twitter, a huge crowd of students can be seen yelling and screaming at Bennett as she tries to film a video. Members of the crowd eventually began throwing things at Bennett, her bodyguard, and her team from Liberty Hangout.
The harassment and rowdy behavior continued even as Bennett and her team left the campus, with the crowd throwing several things at the pick-up truck she was riding in. Along with bottles and liquids, several in the crowd threw toilet paper at her.
The @oupolice lied and said that no violence happened and that there were just "allegations that some unknown person splashed water." Students at @ohiou were throwing things at me all day, dumped hot coffee on me, & vandalized @Joelpatrick1776's truck right in front of the cops. pic.twitter.com/XnMUqFWtrH

— Kaitlin Bennett (@KaitMarieox) February 18, 2020
Bennett pledged to return to the campus in a tweet, saying "I will absolutely be returning to
@ohiou's campus again, and next time I'll bring an army of gun owners for an open carry walk through campus. You can't keep us away and you can't keep us silent. Just like Donald Trump, we will always win."
Police did not intervene in the situation. In a statement on Twitter, the campus police department said that "Ohio University police officers were present throughout the incident to protect everyone's rights and safety."
"Other than keeping streets and other public rights clear, no police officers asked anyone to leave at any point in time," the statement said.
In one of her posts on the incident, Bennett referred to the situation as a "riot," a term that was noticed by the OU police department who pushed back on the characterization.
"Contrary to allegations circulating on social media, the incident did not rise to the level of the riot," the department said. "There was strong language and allegations that some unknown person(s) in the crowd splashed water, but there were no reported injuries or violence, and no one was arrested during the event."
In its report on the incident, The Athens News quoted university spokesperson Carly Leatherwood, who said "Ohio University is committed to fostering an atmosphere that allows the free and peaceful exchange of diverse thoughts and ideas. The university urges its community to respect the rights guaranteed to all under the state and federal constitutions."
MORE: Judge slaps down Kent State for using heckler's veto against gun-rights event
IMAGE: Twitter Screenshot
Like The College Fix on Facebook / Follow us on Twitter