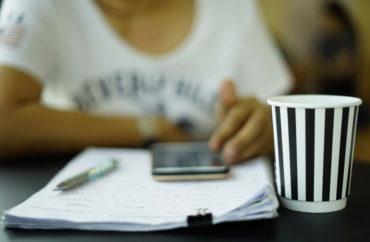 Program seeks to 'eliminate curricular violence'
Jefferson County Public Schools in Louisville, Kentucky will host a year-long professional training program on anti-racist mathematics.
The program's goal is to "eliminate curricular violence and innovate mathematics education" through "anti-bias, anti-racist, and racially equitable practices."
Educators will engage in monthly sessions with Lateefah Id-Deen, assistant professor of mathematics education at Kennesaw State University, which focus on topics like white supremacy in mathematics, racial trauma in mathematics, and creating anti-racist lesson plans.
@jcpsky staff is invited to join our upcoming PD Cohort titled Anti-Racist Mathematics, facilitated by Dr. Lateefah ID-Deen. Register by visiting: https://t.co/4APD3rLuqO @AvenCook @Prof_IdDeenL #jcpsdep pic.twitter.com/gErkuOkWYn

— JCPS Diversity, Equity, and Poverty Department (@JCPSDEP1) May 3, 2021
Id-Deen teaches mathematics methods courses in the Kennesaw State University Department of Elementary and Early Childhood Education, emphasizing racial equity and culturally relevant pedagogy. She is also a frequent speaker at educator conferences and for the local school district.
The Jefferson County Public Schools' "Anti-Racist Mathematics Pedagogy & Practices" program begins in August 2021 and ends in May 2022. Along with the monthly 2-hour sessions, participants receive individual coaching and feedback.
Teachers accepted into the program are required to teach four social justice math lessons during the Spring 2022 semester. They are also expected to "plan for wider dissemination of their learning within their schools and the district."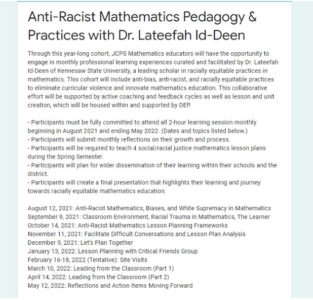 (Pictured: application form for teachers)
'Equitable' changes across the curriculum
The Jefferson County Public Schools Diversity, Equity, and Poverty Department, which is supporting the program, also works to promote equity in other areas.
Another year-long program sponsored by the school district is called "Revisioning History in JCPS." It targets the history curriculum, introducing teachers to books like "A Queer History of the United States," by Michael Bronski and "A Disability History of the United States," by Kim E. Nielsen.
The department also publishes a monthly magazine called Envision Equity. The May 2021 issue featured articles on African-American jockeys in the Kentucky derby; "Accountability, justice, and healing after Dereck Chauvin's trial"; and how to "Enrich your professional development: LGBTQ+ employee resource group."
The district's Anti-Racist Specialist Aven Cook organizes these programs. Cook did not respond to requests for comment from The College Fix.
Jefferson County Public Schools isn't the only school district pushing the idea that racism and math are connected.
In California, a proposed curriculum book states that asking students to "show their work" is white supremacy. Last month, Ontario, Canada released a 9th-grade curriculum explaining math "can be subjective" and that teachers need to "honour diverse mathematical ideas and thoughts."
Neither Id-Deen nor the JCPS Diversity, Equity, and Poverty Department responded to questions from The College Fix on the connection between racism and math, the intended impact of social justice math lessons on students, or the number of teachers participating.
MORE: University to teach how to address social justice using math modeling
IMAGE: Ingkaninant / Shutterstock
Like The College Fix on Facebook / Follow us on Twitter