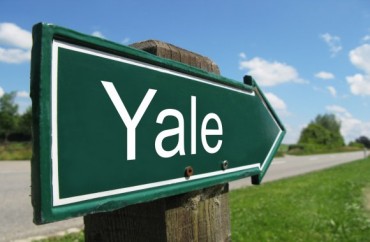 Yale dining hall worker Corey Menafee has his job back. Well, a job, at least, at his former place of employment.
In early June, Menafee had smashed out an "offensive" stained-glass window because it featured slave carrying bales of cotton. It was later revealed that he was informed about the window by a Yale alumnus who told him "no employee should be subject to coming to work and seeing slave portraits on a daily basis."
Though Menafee resigned after the incident, the Yale Daily News reported this past weekend that the former employee said he wanted his job back.
And now, Yale has indulged him.
In a Tuesday morning statement, Yale announced that it would grant Menafee's "request for a second chance at Yale" following a five-week unpaid suspension. The suspension would include time passed since June 21, so Menafee can "return to a position in a different setting" starting Monday.

MORE: Yale worker who smashed 'racist window' now wants his job back

"We are willing to take these unusual steps given the unique circumstances of this matter, and it is now up to Mr. Menafee whether he wishes to return to Yale," the statement read.

On Tuesday evening, Menafee's lawyer Patricia Kane released a statement saying that her client would accept the offer Yale made July 18 and would report for work at 11:30 a.m. on July 24.
Those "unique circumstances" are probably, as the Daily News notes, the fact that "[t]he controversy fits into a broader campus debate surrounding Calhoun College, named after slave owner and white supremacist John C. Calhoun."
The College Fix reported that the Menafee incident served as the catalyst for removal of other windows which, the university claims, were already slated for transfer to a "possible contextual exhibition."
Read the full Daily News article.
MORE: Yale worker smashes 'offensive' window, college destroys the rest for him
MORE: Yale takes down Calhoun paintings because of slavery
Like The College Fix on Facebook / Follow us on Twitter
IMAGE: Shutterstock