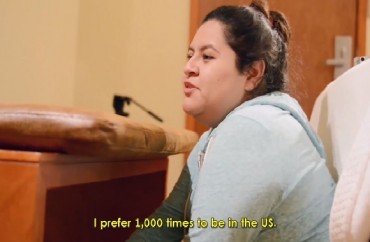 Educator takes college student 'Dreamers' on trips to Mexico – with surprising results
This winter, a professor at Cal State Long Beach will take a group of undocumented students living in the Los Angeles area to Mexico as part of a special class designed for "Dreamers."
Created by Professor Armando Vazquez-Ramos of Chicano and Latino Studies, the class will consist of 25 college students who were brought to the U.S. before the age of 16 and who are now allowed to stay in the country under President Obama's Deferred Action for Childhood Arrivals program.
"The intent is to have students come back and promote similar projects in their colleges and universities," Professor Vazquez-Ramos told The College Fix in a telephone interview. "[Dreamers] are highly motivated and promising young people who will be professionals on both sides of the border."
Vazquez-Ramos will hand pick 25 Dreamers enrolled in colleges throughout the Los Angeles area to travel with him to Mexico on a 21-day long exchange program, he said.
"This is something that has not been done by any other college or university," Vazquez-Ramos said. "I am pioneering a model that any other university could also use."
This past spring, Vazquez-Ramos brought 14 students from his Californian Mexican policy class, most of whom were undocumented, on a university-facilitated trip to Mexico. Some of the students visited relatives they had not seen in more than a decade. Others had never traveled outside of California for fear of being deported.
A documentary, "Without Roots," chronicled the emotions students faced during their journey back to Mexico, where they were born and raised.
"They were excited to fly 'home' for the first time, only to find a huge cultural shock which made them question their true identity," the film's description states.
In one scene, the students were booted from a senate meeting in Mexico after applauding a controversial statement by a lawmaker, prompting surprise and strong emotion. Some students noted the trip, at times, made them feel more American than Mexican in many ways, that they have "two identities."
"I feel like they look at me and know I am not from here," one student said in the film, switching from English to Spanish as she spoke. "I say words and they say, 'Oh, that's not how we speak.' The way that they treat us, even though we are Mexicans, it's an insult. I prefer 1,000 times to be in the U.S."
"Technically, although I have no documentation that shows evidence that I was born there, I feel like I am not from there. Ask me about Martin Luther King. Who was the first president of the United States? I'll answer. … If we take the U.S. citizen exam, we pass it in three minutes, because we know it."
At other points in the film, students teared up as they grappled with their ability to return to the U.S., a privilege not shared by many of those around them.
In another scene, emotions ran high as they were advised by a former illegal immigrant to the U.S.: "[F]or God, there are no borders … for God we are all equal. Then I understand it is a human right. Therefore I demand my right to enjoy the whole universe."
Though undocumented, they traveled to and from Mexico under a USCIS "advance parole" permit.
Vazquez-Ramos told The College Fix this provision covers either humanitarian or educational reasons. He brought two Dreamers to Mexico in 2014 under the provision, and has since expanded his efforts. His upcoming winter trip is the professor's latest effort in creating educational programming for Dreamers in California.
It will be the biggest group and longest trip to date for the professor. Participants will live with host families, attend classes, and take trips around the country during their three-week stay.
In the past, CSULB's student government provided grants for these trips that covered at least some of the expense. The winter trip, however, will be covered exclusively by a private organization. Students are then required to pay out-of-pocket expenses.
But Cal State Long Beach has created and supported other programs to integrate undocumented students into their school.
Recently, the university opened a "Dream Success Center" to provide support and services for an estimated 650 undocumented students at the university. CSULB was the fourth Cal State school to open this type of center.
When reached by email, university officials declined to comment about the exchange program. Rather, they wrote that Vazquez-Ramos is "definitely the best source."
Like The College Fix on Facebook / Follow us on Twitter
IMAGES: Vimeo screenshots